Reviews
All the Boys Love Mandy Lane | Review
The Pain is Calling, Oh Mandy: Levinson's Satisfying Debut Finally Hits Theaters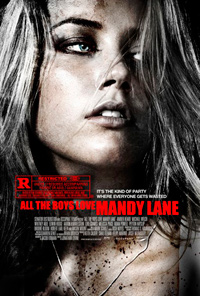 Premiering at the Toronto Film Festival way back in 2006, Jonathan Levine's directorial debut, All the Boys Love Mandy Lane will finally hit theaters. Three subsequent films by Levine have been completed and released in the interim, and star Amber Heard has gone on to become a notable rising star in the Hollywood film system. Curiously, his debut is modeled after 1980s slasher flicks, though featuring better character development than many of the grindhouse titles it pays homage to. Trashily compelling in its over the top handling of the male gaze and consumption of the female image, there's hardly anything revolutionary going on in the thanklessly delayed flick, and it's blighted with a wowser of an ill-advised final twist. But its rough-hewn edges bring a certain engaging charm, especially considering the film is unlike anything Levine's gone on to create.
Mandy Lane (Amber Heard) is the object of every boy's affection in high school, a quiet young lady who has been raised by her aunt since her parents tragically died when she was a child. Rather withdrawn, she mostly hangs out with her equally offbeat male friend Emmett (Michael Welch). But when popular jock Dylan (Adam Powell) invites Mandy to a pool party, conflict ensues with Emmett, who convinces the jock to jump off his roof into the pool to impress Mandy, which doesn't turn out too well for the football player. Fast forward nine months later and we find that Mandy is now ignoring Emmett since this traumatic incident, allowing herself to become part of a new group of friends which includes uber bitch Chloe (Whitney Able) and good time gal Marlin (Melissa Price). The trio has been invited to Red's (Aaron Himelstein) family cabin in the remote countryside, his ulterior motive planned with pals Bird (Edwin Hodge) and Jake (Luke Grimes) to make time with the virginal, completely untouched Mandy Lane. Once there, a handsome but suspicious ranch hand Garth (Anson Mount) seems to catch Mandy's eye. As drugs and booze begin to be consumed, sexual yearning rears its head, and an uninvited guest makes a violent appearance.
Cinematographer Darren Genet shoots in widescreen, and the film has a perfectly utilized grainy look, as if we were looking at some deteriorating reel, enhancing the deliberate grindhouse effect. A poppy throwback soundtrack further aligns Mandy Lane with her 1980s predecessors, the Go-Go's "Our Lips Our Sealed" blasting past the opening credits, then America's "Sister Golden Hair," and finally a contemporary smidge of everyone's favorite crass lass, Peaches. But Levine abandons non-diegetic tracks once the teens reach their final destination, their isolated cabin in the middle of nowhere. And, inevitably, this is where formula kicks in as the little bastards begin to be slaughtered with fashionable phallic symbols (Ms. Heard is even menaced by a nasty water snake before all the carnage begins).
Despite its setbacks, screenwriter Jacob Forman took the time to write individually distinct characters that may still fill archetypical functions but generally remain engaging (and mostly unsympathetic). Mandy Lane is drawn as one of those females that's perpetual victim to her own beauty, an object to be owned by every lascivious male that lays his eye on her. Levine's positioning of Mandy as having potential homosexual tendencies is even more notable due to his star's willingness to be open about her own orientation to the general public.
Heard, who has only grown more strikingly beautiful since this role, is believably fetching here, though she's quite reserved and passive, a character that we're not allowed to get to know, for multiple reasons. It's unfortunate that the film's extremely delayed release has expectations at fever pitch (much like the 2011 film You're Next, which also received a theatrical release this year), and so those expecting something they've never seen before may be sorely disappointed. However, All the Boys Love Mandy Lane is an entertaining slasher flick, even with a maudlin twist that's of the nonsensical sort. And for those that thought Levine's Warm Bodies was aggravatingly milquetoast, then this is a rousing remedy.