Back to Burgundy | Review
Days of Wine and More Wine: Klapisch Delivers a Weak Vintage with Sibling Saga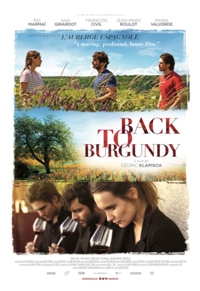 French director Cedric Klapisch has enjoyed something of a singular, sanctified reputation for art-house audiences in the US thanks to the popular trilogy of films born from the success of 2002's L'auberge Espagnol, which benefitted exponentially from the casting of a post-Amelie Audrey Tautou. Since then, Klapisch has spent most of his time developing the characters he introduced in 2002 for two more-or-less celebrated chapters, including 2005's Russian Dolls and 2013's Chinese Puzzle. Trying something similar but on a comparatively micro scale, Klapisch shot his latest feature, Back to Burgundy, over the course of a twelve month period, which began back in 2015. Regarding the fate of three siblings and the future of the vineyard they've recently inherited from their deceased father, a prodigal son returns to upset the rather congenial day-to-day dynamic of operations. Like many of Klapisch's previous films (including his best work to date, the Cesar award winning Family Resemblances, 1996), strained familial relationships dictate the dramatic tension, this time to somewhat underwhelming and predictable lengths.
On a superficial level, Back to Burgundy plays like the flaccid cousin to Gilles Legrand's formidably vicious You Will Be My Son (2011), another Gallic epic involving the inheritance of a vineyard from a Lear-like monster played by Niels Arestrup, a man who has nothing but contempt for his ineffectual biological son. Klapisch's scenario is more fascinated by the ho-hum, casting three bright young pretty things of the French industry to navigate a scenario which plays like the millennial response to Assayas' 2008 Summer Hours, wherein three siblings must also decide to sell a childhood home.
At the center of this triptych is Pio Marmai (two time Cesar nominee for Most Promsing Male Actor) as the prodigal son Jean, outfitted with cliched baggage concerning an overbearing father while meanwhile embroiled in his own relationship woes with wife Oceane (Yamee Couture), a woman forced to run their Australian vineyard alone while her husband lays his demons to rest. To an almost supernaturally ridiculous extent, Klapisch's screenplay (co-written by Santiago Amigorena and Jean-Marc Roulot) uses births and funerals to juxtapose Jean's responsibilities and alliances between his old and new family. Meanwhile, younger brother Jeremie (Francois Civil) is involved as the doomed protégé of his father-in-law, Anselme (Jean-Marie Winling), while wife Alicia (of Ridley Scott's Exodus: Gods and Kings) tends to their child. Sister Ana Girardot (daughter of Hippolyte) pulls the shortest straw in character development, sandwiched into a daft romance with employee Marouane (Tewfik Jallab) after he demeans her as 'bourgeois' when she censures him in front of the other grape pickers.
Trite and by-the-numbers (even wasting noted actor Eric Caravaca appears in a brief flashback) Back to Burgundy is a disenchanting, if ambitiously filmed familial saga from Cedric Klapisch, who has delivered a wide-variety of offerings, from the vibrant (L'auberge Espagnol), the beguiling (Family Resemblances) to mainstream maudlin (Paris, 2008). Like an indistinct red-blend served at a mediocre happy-hour, all the notes are there, but none of them striking a cord.
★★/☆☆☆☆☆