Dirty Snow: Espinosa's Ungainly Yet Enjoyable Soviet Era Mystery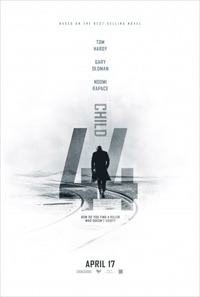 Grazing lightly over the Soviet era politics of the period and featuring a handsome, gussied up cast that features a tad too many problematic instances of accented English, Swedish helmer Daniel Espinosa still manages to make an utterly watchable film out of Child 44, his second studio picture since breaking into Hollywood with 2012's Safe House. A cadre of diverse actors from Sweden, Poland, France, Denmark, the UK, the US, Switzerland, and more, portray period Soviets, some to better effect than others.
Based on Tom Rob Smith's novel, the first in a trilogy, Espinosa and screenwriter Richard Price have clearly tried to retain the source material's sprawling scope, though the film sometimes gets tripped up in its own skirt layers. Considering the richness of the material, it's too bad that our seemingly unwavering preference for shorter running times in the US is not a bit more flexible, as this film may have seemed more substantial had it been given room to breathe (or had it divorced itself from several tangents in an effort to streamline focus). That said, there are several winning elements that make the film compelling, as it's better than the critical drubbing it's certain to initially endure.
We chart the ascension of Leo Demidov (Tom Hardy), landing a respected leadership position in Moscow's State Security Force after surviving a vicious childhood as an orphan before being hailed as Soviet War Hero during WWII. Eight years after the war, he finds himself on the precipice of destruction under a new regime. Reporting to his corrupt commander Major Kuzmin (Vincent Cassel), Demidov discovers that his unhappy wife Raisa (Noomi Rapace) has been named as a possible spy. Assigned to investigate her, Demidov is certain that this is the doing of his nemesis Vasili (Joel Kinnaman). He's distracted by another event when his best friend's (Fares Fares) son is found murdered. But since murder is a disease of capitalism and could not possibly happen in the paradise known as the U.S.S.R., then it must have been an accidental death. Demidov begins to see a pattern of child murders, all being explained as death by another cause. But the situation with his wife has caused his banishment from Moscow. Once stationed in the rural town of Volsk, Demidov finds a sympathetic ear with General Nesterov (Gary Oldman).
Not unlike the various casting issues in Anton Corbijn's German set A Most Wanted Man, it would have helped if some actual Russian actors had prominent roles in Child 44 (at least Corbijn had Nina Hoss in there). Espinosa clearly has favorite actors he likes to work with, explaining why Joel Kinnaman and Fares Fares (both in 2010's Easy Money as well as Safe House) are along for the ride, both faring a bit better than the likes of Jason Clark, Vincent Cassel, and Nikolaj Lie Kaas.
Despite Noomi Rapace's distracting colored contact lenses, she proves to have an intense chemistry with Hardy, reunited from Michael Roskam's The Drop. Gary Oldman, no stranger to playing Russian, provides solid support. But at the forefront of all these odds and ends is another incredibly likeable performance from Hardy, albeit in a similar vein to those brooding, emotionally repressed hulks we've seen before.
Many may recall a chilling 1995 film made for HBO called Citizen X, which starred Jeffrey DeMunn as the notorious serial killer Andrei Chikatilo, the figure upon which this is all based. Child 44's glaring error is Paddy Considine as the Chikatilo serial killer figure, and once he's revealed in the film's extended second half, all of the film's heretofore attenuated strands get collapsed into a rudimentary resolution. The political machine that granted the notorious serial killer a wide berth is what really makes Child 44 sometimes fascinating, and Oliver Wood excellently captures a murky, muddy, apathetic post-WWII Soviet Union.
Rapace gets several chilling lines concerning what wives are for, but perhaps the best bit of all, in an early segment where's learns she has been accused of espionage and resignedly sighs, "It's just our turn." A succession of additional British inclined Russians (Sam Spruell, Charles Dance) begin to overshadow the increasingly forced thrills, ending with a bit of unnecessary sentimentalism. Ambitious and sometimes intriguing, Child 44 is worth a look despite certain ungainly factors.
★★★/☆☆☆☆☆