Wet Behind the Ears: Alaimo's Suburban Malaise a Standard Procedure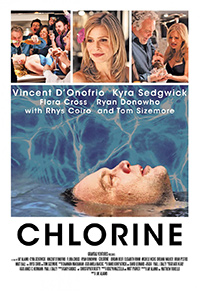 We've come to expect a certain amount of functional dysfunction to be featured in independent films depicting the decomposition of nuclear American families all tuckered out by their dogged insistence on living out the illusion of a proscribed way of existence. You can count Jay Alaimo's latest film, Chlorine, as an overly familiar example of hitting all the customary checkmarks, including a more pressing and dramatic back story used to tie its disparate characters together.
Issues of class and how we're conditioned to always hunt for loopholes to score upgrades seems to be an overarching theme but between a handful of moments where Alaimo is trying too hard to score pathos or convey information, the film is a stagnant, emotional plateau, managing only to ingrain us with an apathetic attitude towards its characters.
It almost seems ironic that Alaimo chooses to open Chlorine with a mustachioed character snorting cocaine that's not Tom Sizemore, whose name glanced across the credits only moments before (Sizemore does star in a minor, non drug-addicted role as a character owning a construction company that hires the Donowho character). Alaimo throws in a quote from wayward misanthrope William S. Burroughs about America, where "evil is there waiting."
As delectable as that lead in happens to be, things start to get a bit cliché by the title sequence, where we meet Cynthia (Flora Cross), the teenage daughter of Georgie and Roger (Kyra Sedgwick and Vincent D'Onofrio), who happens to get her period during swim practice. Quickly we learn that Cynthia's home life, where her upper middle class parents are still desperately expressing a wish for upward mobility into a higher tax bracket is rife with quicksand angst as her parents have recently hit mid-life crises mode. Georgie stays at home to "run the family," but her boredom has forced her to buy a motorcycle and take up speed racing in between extravagant themed dinners (consisting of spendy take-out food and costumes). Roger, meanwhile, has been passed over for VP at his bank for a third time. Their son Henry (Ryan Donowho) still lives at home even though he's out of school. He's thankfully around to make intelligent references to worlds beyond suburban angst, where female fireflies, born without the same protective mechanism as the male of the species, will devour their counterparts to gain the same protection.
Thankfully, a smarmy and filthy rich coke addict at the country club (Jordan Belfi), offers Roger the chance to invest in a lucrative real estate deal. Of course, things that sound too good to be true usually are. For the purposes of juxtaposition, we also get a glimpse at the lives of the employees of the country club, including a friendly golf coach (Michele Hicks) who commiserates with Cynthia, and the drug dealing tennis coach (Rhys Coiro), who is having relations with Cynthia's school friend (Dreama Walker).
Alaimo's screenplay, co-written by Matt Fiorello, features a few jagged segments, particularly in its initial set-up, where dialogue seems calibrated to relay necessary information about the current state of affairs. That could be more forgivable if the rest of the film wasn't so numbingly rendered.
Unlikeable characters caught up in their materialistic wants and needs are fine as long as they're engagingly rendered, but a cast of interesting names can't seem to elevate the material from a sub-standard slump. Reference is made to Cynthia's swimming practice being canceled due to over chlorination of the pool, a metaphor for the excess that warps and discolors our very nature as human beings. But rather than instill that feeling in us, Chlorine feels medicated, a film that goes through the motions of suburban malaise, but only proves that to convey this as a state of mind or way of being is more slippery and more complicated than we often think it is.
If all happy families are the same, it seems that, in the confines of independent film, unhappy families have evolved in similar fashion toward a cookie-cutter paradigm of wretchedness.
★★ / ☆☆☆☆☆