Reviews
City of Gold | 2015 Sundance Film Festival Review
Eating One's Way To Enlightenment: Gabbert Follows Gold Down A Rabbit-Hole Of Crucial Cultural Cuisine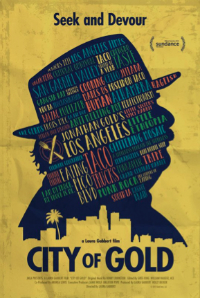 Everyone in Los Angeles knows that Jonathan Gold is the man you look to for advice on where to score the tastiest tacos, slurp down the most flavorful pho or best bet to brave the culinary possibilities of the notoriously gelatinous hagfish. The man knows his way around the various indigenous subsets blooming from the borders of a city known to most by its obnoxious sprawl and Hollywood gleam, and with genuine regard for the melting pot of immigrant communities cultivating their native dishes throughout his hometown, he connects paying customers to those fine inborn cooks who woefully deserve their patronage. Paying tribute to the beloved L.A. Times' food critic, Laura Gabbert's unadorned documentary portrait, City of Gold, explores Jonathan's unequaled ethos as a cultural writer with a decidedly reserved aesthetic while remaining fittingly reverential of the City of Angels itself and the textural cognition that Gold exudes in honor of its diversified culinary scene.
Long before the celebrated critic of cuisine won the first ever Pulitzer Prize awarded for writing on the topic of food, the master of written comestible compassion was a classical music geek whose cello obsessed upbringing fostered a deep-seated curiosity of culture of all kinds initially led him deep into the music world. The 80s saw him playing in punk bands, and the 90s, holed up in studios with soon to be hip-hop legends Dr. Dre and Snoop Dogg, found him writing on the coming cultural revolution that finally became gangster rap, but it wasn't until Gold found his calling in the critique of the endless selection of rotating restaurants throughout Los Angeles that his writing reached a new level of civil consequence. Reflecting upon meal after meal, he found himself truly effecting the way people engaged with the eating establishments he relished for their natural tendency to meld heritage flavors with community progress.
Now, while this all seems like poignant expository information that might have lovingly played out in Ken Burns-esque photo-glides (there are a handful) and a cast of friends and relatives (in this case some appear as dinner guests) that reflectively paint a picture of Gold in his youth, Gabbert instead mostly opts to subvert this easy compulsion by letting the endearingly unkempt, elegantly loquacious Gold tell his own story, as well as that of his home town by giving us a tour of his favorite hole-in-the-strip-mall, mom and pop restaurants sprinkled throughout an L.A. known only to few. Shooting the scrolling sun-soaked city from the passenger seat of Gold's pick-up, the filmmaker allows Gold to be our guide, reflecting along the way, as he does so eloquently in text, why these places of distinct culinary texture have come into being and why they deserve our attention. In visiting these places, we're given the opportunity to meet many of the chefs, nearly all of them immigrants whose lives were changed after Gold gave praise to their restaurant which they started from the ground up with nothing but family traditions in their hearts and heads full of American dreams.
What's more is that as we explore this incredible hidden city of mini-malls full of delectable foods of all kinds, snippets of Gold's best writing dances along over top in affectionately affective voiceover read mostly by the author himself. Gold's culinary commentary is some of the very best cultural criticism found anywhere, as it's of the sort that not only helps readers to sort through our junk culture to find the gems hidden within, but actually unearths greater meaning about ourselves, our fellow humans and how the fabric of our cultures are woven together as one thanks to the unequivocal joys of eating. With City of Gold, Gabbert has authored a loving celebration of both man and metropolis, the glories of culturally rich cuisine and the kind of critique that inspires a thousand meals.
Reviewed on January 27th at the 2015 Sundance Film Festival – U.S Documentary Competition Programme. 88 Min.
★★★½/☆☆☆☆☆