Reviews
Pervert Park | 2015 Sundance Film Festival Review
Sex Offender Stigma: Barkfors Take Taboo Tour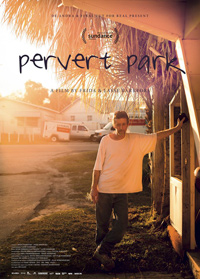 It's not an easy subject to broach let alone discuss. The scarlet letter burns bright as sex offenders attempt to navigate a world that scorns and condemns them. With crimes ranging from offensive to heinous, their stories break the silence that detains them to the outskirts of the world to which they used to belong. Frida and Lasse Barkfors' Pervert Park is an intimate look at a specific group of sex offenders who live in a compound where they cope with their inner demons and past transgressions in the attempt to preserve remnants of their humanity.
Aptly named, Pervert Park follows a group of sex offenders who live in a trailer park (Florida Justice Transition) while adjusting to their new social statuses post-incarceration. The compound was first created by Nancy Morais' desire to help her son find housing after he was deemed a sexual offender. What started as a solution to an individual problem grew into a communal asylum where there is a cultivated mutual understanding between the residents who live with as much freedom as they possibly can. They undergo group therapy, speak about probation, and even attend barbeques. Their broken backgrounds affixed together create a safe haven–far from idyllic yet the best that they can hope for.
A veteran resident, William Fuery, who helps maintain the park, is one of the more prominent subjects. His story, which includes a family tragedy and his own abuse from his parents and babysitter, contains a level of honesty, which arises only from years of self-examination, torment, and ultimately acceptance. Tracy Hutchinson's gut-wrenching story also helps reinforce a familiar cyclical pattern that reappears throughout. Though there are different subjects, their collective willingness to share is so indicative to just how muted their voices are.
As first time directors, Frida and Lasse Barkfors approach their subjects generously. There is no shying away from details nor do they feel heightened for dramatic effect. Like the park itself, the Barkfors offer a safe platform for the offenders to share their stories as unadulterated as they come. The subjects are on their own personal journeys whether it be towards reconciliation or redemption.
The Scandinavian produced documentary does not condemn but it also does not force empathy. In fact, the offenders' profiles are displayed which include their personal details, ones that could easily be found from a quick Internet search. It is a reminder that these offenders have indeed committed a crime but that there is depth beyond their portraits and vice versa. Consisting of expected talking heads and a bit of wondering around as the residents pass through the compound (many are restricted due to house arrest), despite the predictable approach, Pervert Park allows the subjects and their stories to come to light for what they are, and for who they are.
Reviewed on January 28th at the 2015 Sundance Film Festival – World Cinema Documentary Competition – 77 Mins.
★★★/☆☆☆☆☆