If We Try: Berri's Exceptional Debut Granted Sterling Restoration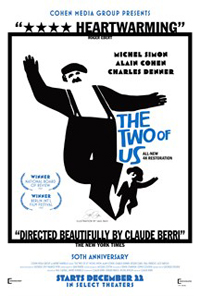 Arriving just in time to celebrate its fiftieth anniversary, French auteur Claude Berri's 1967 directorial debut The Two of Us finds itself re-released in the US during the holidays for an extra dose of poignancy during Christmas. Premiering out of the 1967 Berlin International Film Festival, where it won Michel Simon a Best Actor Award (in what serves as the esteemed actor's most notable accolade across a filmography which spanned from the 1920s to the mid-1970s), it's a subtle melodrama of childhood set amidst the backdrop of Nazi occupied France, wherein a young Jewish boy is taken in by a kindly rural couple, of which the husband is an ignorant anti-Semitic. Berri, perhaps best known for his 1980s adaptations of Marcel Pagnol (including Jean de Florette and Manon of the Spring), received most of his more lucrative awards as a producer, but directed a wide array of France's most revered actors before passing away in 2009. His debut stands as one his most accomplished achievements, and is a masterwork of haunting WWII and coming-of-age cinema.
In 1943 France, Jewish Parisian couple Madame and Monsieur Langmann (Charles Denner and Zorica Lozic) tire from moving from place to place in an effort to avoid capture by the Nazis. It doesn't help they have an eight-year-old son Claude (Alain Cohen) whose mischief has caused them exposure, the consequences of which he cannot possibly understand. When a Catholic friend offers to have Claude stationed at their elderly parents' countryside home, they teach their son the Lord's prayer, give him a new Christian name and stress that under no circumstances can he be seen naked. The elderly couple turn out to be warm and kind, however Pepe (Michel Simon) turns out to be anti-Semitic, and his morbid views of Jewish people create some initial awkward tensions. However, the boy and the old man eventually begin to bond, which challenges them both to grow in unexpected ways.
Cohen Media Group is responsible for the title's restoration, the rights of which were bought out from under the Criterion Collection (which previously released the film on DVD several years prior). Berri creates a semi-fictionalized account of his own experiences, co-written by Gerard Brach and Michel Rivelin, and accomplishes a simple yet poignant odd couple's tale about ignorance and friendship.
Simon plays the pro-Vichy Pepe with curmudgeonly aplomb (suffice it to say, Simon, like Walter Matthau, made a much more appealing screen presence as an older man), spewing his stereotypes about Jews as he's egged on by Claude, who mostly seems amused at the elderly man's prejudices. In one of the film's finest moments, the young Cohen lambasts these viewpoints by pointing out Pepe's nose is larger than normal and his hair is curly—both traits used to demarcate and demean.
Of course, it's the level of poignancy Berri captures between Simon and Cohen as they bond and eventually support each other, as evidenced by a tender moment when Claude returns from school bald-headed after he's caught sending love letters to a girl at school. And through it all, Pepe never learns the truth of Claude's ethnic heritage, which ends in a perfectly bittersweet moment in the rain, evoking complex shades of poignancy which are reached for similarly in something like Benigni's Life is Beautiful (1988) but are much better captured by Berri and Michel Simon within the closing frames of The Two of Us.
★★★★/☆☆☆☆☆