All the Money in the World | Review
A Buck or a Pound: Greed is Good Cinema in Scott's Perverse Portrait of Capitalist Dysfunction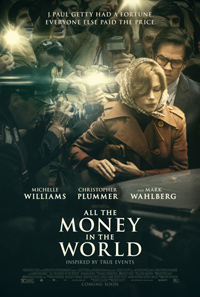 Perhaps it was ABBA, Sweden's 1970s pop sensation, which best captured the kitschy paradigm of capitalism's folly—"Money, money money/Must be funny/In the rich man's world." Indeed, it kind of is in the perversely droll All the Money in the World, the troubled Ridley Scott film which details the 1973 kidnapping of John Paul Getty III, one of the grandchildren of the famed wealthy American industrialist J. Paul Getty, termed the richest man in the world during the period. The highly publicized celebrity scandal involving Kevin Spacey, whose performance as the elder Getty was cut from the film shortly after distributor Sony Pictures yanked it out of a closing night premiere at the 2017 AFI Film Festival, (only to find him famously replaced by Christopher Plummer, his sequences re-shot in record speed, with an added ten-million-dollar budgetary expense to meet its originally intended theatrical release), adds an extra sordid dimension, not to mention a priceless notoriety which automatically elevates the film's profile.
The result is, by far, Scott's best effort in a prolific decade littered with big-budget epics and franchise installments (the latest in his prequel trilogy Alien: Covenant opened only six months prior), bolstered by some ostentatious performances which tap into the heightened pulp fodder of both the era and the event.
Adapted from John Pearson's book Painfully Rich: The Outrageous Fortune and Misfortunes of the Heirs of J. Paul Getty, Scott dives headlong into the kidnapping of John Paul Getty III (Charlie Plummer) in Rome, 1973. The kidnappers, led by Cinquanta (Romain Duris), demand seventeen-million dollars for his release. However, his mother Gail Harris (Michelle Williams) had divorced John Paul Getty II (Andrew Buchan) years prior, and the man holding the purse strings was the notoriously prudent J. Paul Getty (Christopher Plummer), who balked at the prospect of such extortion. Dispatching his advisor Fletcher Chase (Mark Wahlberg) to accompany Gail in Italy as local authorities attempt to track down her son's kidnappers, months slowly tick by as the boy's health deteriorates, the ransom amount dwindles, and patience on both sides dissipates.
In a move which would seem to add insult to injury in Spacey's demise, the Hollywood Foreign Press Association chose to bestow a Golden Globe nomination upon Christopher Plummer for Best Supporting Actor for his performance as J. Paul Getty, news which dropped several weeks before the film's theatrical release. Although we'll never see the final product which featured Spacey, Scott lucked out with Plummer, who is more age appropriate as Getty, and who nails the aura of a frugal oligarch whose withered contempt for humanity has resulted in extreme isolation and abject selfishness. Ruefully abstaining from paying the ransom for his grandson, a boy he admits to caring for more than any of his other thirteen grandchildren, screenwriter David Scarpa amps up the titan's greed for arts and antiquities. If the script sometimes ruminates too obviously on Getty's preference for collectibles vs. humanity, Plummer deftly circumvents these expositions in a performance which feels a lot like Count Dracula's New World cousin, bearing birthrights as equally consuming as they are liberating.
Joining Plummer on the Golden Globe roster is Michelle Williams, who comes outfitted with a steely, New England chill which recalls the throaty pitch of Judy Garland. Williams does a fine job playing a highly sympathetic, overwhelmed matriarch at odds with an impossible empire. Although All the Money in the World plays to both their strengths, it's unfortunate then that they're conjoined by the film's weakest link in yet another breathy performance from Mark Wahlberg as an ex-CIA fixer hired by Getty to orchestrate the exchange of his grandson in Italy, but preferably without ever giving into their demands. The months-long endeavor plays out with compelling precision in the two-hours plus running time, which oscillates freely between Williams chomping at the bit and Plummer's bemused pursuits of fine collectibles rather than deigning to foot the bill. On the other end of this is a somewhat by-the-numbers painting of Italy's ruthless underbelly, where syndicates intersect anywhere an extra lira can be made.
Doing his best to claw his way into a dynamic performance is French heartthrob Romain Duris, lost behind a veneer of grizzled desperation as two-bit Italian criminal Cinquanta, who eventually sympathizes with his forlorn captive. Charlie Plummer (no relation to la Christopher), who recently headlined Andrew Haigh's Lean on Pete, has little to do but look bedraggled, and at the end of the day is merely one of the several jewels bedazzling Scott's coat-of-arms (Stacy Martin of Nymphomaniac as Getty's secretary and Timothy Hutton as a steadfast lawyer are allowed the same amount of gravitas).
Prizing an arch rather than intimate approach (as evidenced by Plummer's breezy, unbothered air in a third act clincher which sees his plans for a Bel-Air mansion overshadowing the latest developments with his grandson's predicament), All the Money in the World excels as a withering glance at the demographic we now define as those dread one-percenters, those untouched by the daily toils of mankind, and like the Gettys, atop a throne long since hollowed out by the resulting dysfunction which accompanies privilege undaunted by consequence.
★★★½/☆☆☆☆☆