Elle Époch: Westmoreland Recuperates a Literary Giant in Appealingly Frank Biopic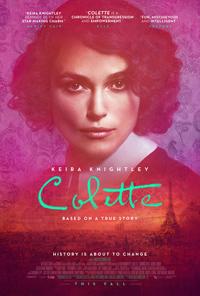 After winning the Sundance Grand Jury Prize for the 2005 breakout film Quinceañera, co-directors Wash Westmoreland and Richard Glatzer brought Julianne Moore to her Oscar win for 2014's Still Alice. After the passing of Glatzer in 2015, Westmoreland went on to make his first solo directorial outing with Colette, a biopic of the iconic French literary giant starring Keira Knightley in turn-of-the-century Paris.
Arguably one of the most notable French literary figures, particularly from the nostalgia tinged Belle Époque era, Colette's most notable works to English language speakers are those which were adapted into high profile films, such as the Best Picture Winner Gigi (1958) from Vincente Minnelli, or more recently, Stephen Frears' collapsed mounting of her Cheri (2009) novels starring Michelle Pfeiffer. Colette's sexually liberated attitudes, which made their ways into her first series of the famed Claudine novels, originally published under her husband's name, are kept intact (even if her native tongue is not) in this unpretentious examination of an incredibly talented and ambitious woman who would buck the shackles of patriarchy which censured her voice and sexuality.
An adventuresome rural lass, Sidonie-Gabrielle Colette (Knightley) is swept off her feet by literary entrepreneur Willy, who whisks her off to 1890s Paris after marriage. Their honeymoon period is interrupted by Colette's discovery of Willy's significant extra-marital affairs. When his editorial workshop, which employs a wide variety of male ghost writers, becomes compromised, a last-ditch effort to supply new material finds Colette writing a semi-autobiographical novel about her girlhood under the guise Claudine. When the novel is a runaway success, Colette and Willy become a celebrity couple, and a Claudine franchise is born—only the novels must continue to be published under Willy's name. As the years go by, Colette finds herself yearning for recognition, as well as fostering her own sexual relationships outside of her marriage to Willy, eventually leading to an affair with gender bending aristocrat Marquis de Belbeuf (Denise Gough).
Westmoreland covers the period of 1892 to 1910 in Colette's life, including her life as a young adult up to the printing of The Vagabond, her first work published under her own name. The film's fatal flaw, however, is the fact it's filmed completely in English (much like the most famous of Colette's adaptations), with the lone exception of her heritage depicted in the writing of her native tongue. The sexual escapades and frank discussions on fluid sexualities, gender identities, and infidelity makes this much racier than the standard British borne period piece, which this otherwise feels like on all technical fronts (however, flatulence gets its own comic aside).
The script (co-written by Glatzer, Westmoreland and Rebecca Lenkiewicz of Pawlikowski's Ida, 2013) focuses tightly on Colette's rather extraordinary marriage to the aptly named Willy, including their eventually progressive sexual arrangements and the tragic falling out which tends to mark the end of all relationships where a man took credit for the work of his wife (Big Eyes, maybe even F. Scott Fitzgerald parallels in there). Knightley excels as the titular author, the costume drama period piece clearly evoking her most impassioned emotional plateaus as a woman who finds her voice and reclaims her name.
As Willy, Dominic West presents as a dapper manipulator, who must compete with Denise Gough's Missy, a Russian aristocrat (and seemingly stepping out of the pages of Radclyffe Hall or Woolf's Orlando) for his wife's love and attention. Fiona Shaw, who also stars in this year's Lizzie, also set in 1892, provides some pleasant emotional accents as Colette's matter-of-fact mother. A recuperative effort of sorts for those unfamiliar with the infamous historical figures of French literature, Colette is an enjoyably fraught portrait of a tumultuous marriage, and one which at least stays true to the spirit of its subject.
Reviewed on January 20th at the 2018 Sundance Film Festival. Premieres Program. 110 Mins.
★★★/☆☆☆☆☆