Walk Away Genet: Macneill Revisits the Lurid Case of Lizzie Borden in Fascinating, Empowering Psychological Portrait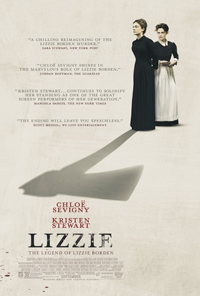 For true crime aficionados, there is perhaps no figure more fascinating than Lizzie Borden, the Massachusetts heiress who, in 1892, was brought to trial for butchering her father and stepmother only to be found not-guilty because the all-male jury found it impossible to believe a woman from her social standing could have done such a thing. Fast forward over a century (a hundred years later, the Menendez Brothers would provide us with a topic of similarly staged tabloid fodder), and Borden, though forgotten, remains a mysterious figure of infamy. Those from a generation (or more) back might be familiar with the grotesque but popular children's rhyme "Lizzie Borden took an axe/She gave her mother forty whacks/When she saw what she had done/She gave her father forty-one."
Director Craig William Macneill, himself a Massachusetts native who explored a similarly simmering ambience of patriarchal aggressions with his breakout 2015 debut The Boy, mounts an empowering portrait of Lizzie in what stands as the most compelling presentation of her to date (a television version starring Christina Ricci in 2014 tends to gravitate toward camp value of the case). Employing a formidable duo played by Chloe Sevigny as the titular murderess and Kristen Stewart as the Irish maid who seems to upset the balance of masculine authority in the Borden home, Macneill, working from a sympathetic screenplay by Bryce Kass, turns a lurid melodrama into a compelling testament of the dangers of suppression.
In August of 1892 in Fall River, Massachusetts, bullheaded and strong-willed Lizzie Borden (Sevigny) was accused of killing her wealthy father Andrew (Jamey Sheridan) and her step-mother Abby (Fiona Shaw) with a hatchet. Just six months prior, uneducated Irish immigrant Bridget Sullivan (Kristen Stewart) arrived as the Borden's new maid, forming an empathetic bond with black sheep Lizzie. Older sister Emma (Kim Dickens) doesn't share her younger sister's rebellious streak, but it would seem certain hysterical outbursts and episodes stem from certain abuses inflicted upon her independent sister by both social expectations and her lascivious leaning father. As the claustrophobic tension mounts in the Borden household, Lizzie arrives at her infamous breaking point.
The scenario presented is nothing new to cinema. Jean Genet's famous play The Maids delves into similar intersections of class and gender, while a whole slew of films have explored the tawdry possibilities of murderous lesbian lovers, from Chabrol's La Ceremonie (1995) to Peter Jackson's Heavenly Creatures (1994), and Nancy Meckler's Sister, My Sister (1994), etc. Stewart, as Maggie nee Bridget, decked out with an impressive Irish lilt and a mournful façade so morose it would distress homeless puppies, provides more evidence of an impressive range of vulnerability (the treatment of the Irish is lightly touched upon, but the main point being the class discrepancies allowing them to be treated like animals whose names could be changed with new owners).
Macneill allows Chloe Sevigny to tear into her portrayal of Lizzie, a victim of patriarchal heteronormativity who is fashioned into an anarchic feminist icon here. Sevigny is allowed a wide range of withering responses to her offenders, which lends the film a sort of cathartic release pedal. Although murder isn't something which can ever be ethically condoned, her situation, including the context and period wherein even women of means had no actual agency, the situation of Lizzie and Bridget is comprehensible.
An impressive supporting cast, including Kim Dickens, Denis O'Hare, Fiona Shaw (of De Palma's The Black Dahlia, 2006) and the selective Jamey Sheridan (The Ice Storm, 1997) churns Lizzie into a mounting orchestra of dread, even as it opens with the bloody corpse of Mrs. Borden before backtracking six months to the arrival of Bridget, the tipping point, it seems, of the family's demise. Sheridan masters one of the film's cruelest extended moments involving some pet pigeons who get the short end of the stick. While Lizzie (not to be confused with the 1957 Eleanor Parker film adapted from a Shirley Jackson thriller) manages the impossible in how it presents its title character as (at least partially) a victim of circumstance, it's likely to be an unpleasant experience for many. But once Macneill allows this dark flower to completely unfurl into its horrifically imagined reenactment, Lizzie becomes a sobering, complex indictment—making it perhaps too difficult for many to engage with its clashing allegiances.
Reviewed on January 20th at the 2018 Sundance Film Festival. U.S. Dramatic Competition Program. 105 Mins.
★★★½/☆☆☆☆☆