Ticket to Heaven: Gallenberger Depicts Chilean Torture Cult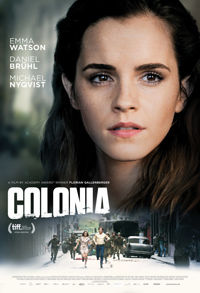 The devastation General Augusto Pinochet's dictatorship waged on Chile from the moment of his infamous 1973 coup until 1990, when the country transitioned to a democratic government, has been portrayed on film in various formats. International attention has focused heavily on the human rights violations which transpired during his reign, documented painstakingly throughout the past four decades by Patricia Guzman, beginning with his three part documentary The Battle for Chile. Recently, the Chilean New Wave has ushered forth a number of auteurs, including Pablo Larrain, who has similarly depicted the tumultuous period with his own narrative trilogy on Pinochet. We're beginning to see more and more contemptible illustrations of less well-publicized events from this dark period, and German filmmaker Florian Gallenberger is the first to tackle the lurid barbarity of ex-Nazi turned cult leader Paul Schafer with Colonia, depicting the man who fled West Germany on child molestation charges and constructed a religious cult compound in the isolated forests outside of Santiago, Chile. During Pinochet's regime, the secret police used the compound as a site of torture, with many of the humans who 'disappeared' there reputedly buried on the grounds. In its forty years of operation, only five cult members were ever reported as having had escaped, and despite leaked pictures to the international press, little was done until very recently, when Schafer finally faced a litany of charges in 2006, dying of heart failure at the age of 88 in 2010 while in prison. While this first illustration of Schafer remains fascinating, it sort of misses the mark with its focus on a white European perspective.
Arriving in Chile on the eve of Pinochet's military coup, flight attendant Lena (Emma Watson) makes a surprise visit to her activist boyfriend Daniel (Daniel Bruhl), an Allende supporter in Santiago. But they suddenly find themselves trapped in a maelstrom of terror, and Daniel is abducted and shipped off to a mysterious compound in the forest known as Colonia Dignidad (The Colony of Dignity). While the rest of Allende's supporters are forced into hiding, Lena treks into the forest and avails herself to the cult, infiltrating it in hopes of finding Daniel. But she isn't quite prepared for the atrocities she's about to witness.
The lack of a decidedly Chilean perspective isn't quite as ludicrous as Patricia Riggen's The 33 (2015) due to Colonia Dignidad's German founder, but the adherence to English language sometimes aids this distraction. Likewise the focus on the overly determined characterization of Lena is somewhat hampered by Emma Watson's dubious performance as a mole desperate to locate her abducted boyfriend. Watson seems calibrated specifically as a cypher for the audience's concerns and anxieties, but never seems like someone trying to acquiesce believably into a cult. Daniel Bruhl's plight is more gripping, subjected to extreme tortures allowing him the possibility to pretend to be handicapped and non-threatening as a means to plot escape. As the enigmatic cult leader, Swede Michael Nyqvist does justice to the German Schafer, enough so a more in-depth expose on how this bizarre cult managed to be created and so carefully maintained seems necessary. As the keeper of the young women, British actress Richenda Carey is marvelously effective as an abusive, manipulative warden.
DP Kolja Brandt (Erased, 2012) creates a masterful menace with the isolated compound, boxed in with shadowy foliage. Gallenberger and first time screenwriter Torsten Wenzel tend to shy from extremes, despite several moments of implied brutality, including a sequence of appallingly conditioned misogyny. Colonia is fascinating, and seems to align with Gallenberger's interests in historical reenactments, such as his previous 2009 title John Rabe. Though it's not ultimately as powerful as it could be, it does have an anxiety inducing finale, (which seems reminiscent of a seemingly exaggerated climax in 2012's Argo), the film is well worth a look.
★★½/☆☆☆☆☆