The Iceman Cometh: Vromen Baffles with Illogical Romantic Thriller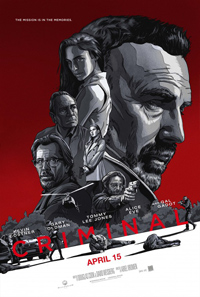 Director Ariel Vromen dashes the promise shown in his 2012 portrait of contract killer Richard Kuklinski in The Iceman with his latest, the ungainly dramatic thriller Criminal. Scripted by Douglas Cook and David Weisberg, the scribes responsible for The Rock (1995) and Double Jeopardy (1999), this wildly inconsistent stew is a risible mishmash of purloined components from other notable genre efforts. The film's notable array of celebrated cast members can't compete with the crushingly superficial tone and a narrative about as bargain basement as its title is completely character less. A notable lack of enthusiasm hampers everything like a wet blanket, from its painfully forced twinkles of emotion to violently tinged excursions, every moment desperate in its attempt to mask the odor of generic derivative.
CIA operative Bill Pope (Ryan Reynolds) is in the midst of a mission set to affect international security as he tracks down a hacker named The Dutchman (Michael Pitt) in Germany, a man he plans to pay off in exchange for missile launching technology which could wreak havoc if it lands in the wrong hands. In London, his wife (Gal Gadot) and child expect him home for dinner, but before he can execute his mission, Pope is killed by vicious Spanish criminal Hagbardaka Heimbahl (Jordi Molla) who also desires this secret intelligence. While The Dutchman is left to flounder and possibly secure a deal with the Russians, Heimbahl and his henchwoman (Antje Traue) tap into the CIA's counter mission, with Pope's superior Quaker Wells (Gary Oldman) activating Dr. Franks' (Tommy Lee Jones) developing memory transplant technology. In an effort to save Pope's priceless subconscious, Dr. Franks injects the dead operative's memories into hardened criminal Jericho Stewart's (Kevin Costner) brain, a prime candidate for the experiment due to his undeveloped lobes resulting from a childhood injury. But everyone seems to forget, despite acquiring the advanced skillset of another being, Jericho still has a mind of his own.
If Eugene O'Neill's The Hairy Ape were spliced with Daniel Keyes' Flowers for Algernon (retitled Charly for its most notable 1968 film version), then you might get an idea of what's being attempted with Kevin Costner's brutish character. Governmental experiments overstepping ethical boundaries and transplanting consciousness into an alternate host body fleetingly recall everything from A Clockwork Orange (1971) to Ghost (1990), and the distracting and unnecessary casting of Ryan Reynolds draws comparison to a mediocre film he starred in utilizing a similar narrative in 2015's Self/less (which Vromen's film is about as futilely effective as).
Despite its obvious reference points, the idea of something more subversive is unmistakable, but it's lost in this miserably executed endeavor, the script's most obnoxious components only amplified by its formidable casting. It's difficult to take either Costner or Oldman seriously when they're portraying men named Jericho Stewart and Quaker Wells, but it's Costner who suffers the most in this ill-shapen dress (the married couple played by Reynolds and Gadot, meanwhile, are named Bill and Jill). Growling nearly all his dialogue to give the impression of a man with crushed frontal lobes, he utters lines like "Your guy inside me made me feel things" to the distressed Gal Gadot (with whom Costner appeared alongside of in Batman Vs. Superman). But even with Costner's problematic characterization (who we initially meet chained by the neck like an animal in a subterranean prison), he's consistently outshined in this department by the miscasting of Michael Pitt as a Dutch superspy (whose codename is The Dutchman) oscillating between the Americans and the Russians with his mysterious Intel.
A weary Tommy Lee Jones as the kindly doctor who's been developing the ability to transplant memories and Alice Eve as a B-player for the CIA are both sewn up into underwhelming characters while Oldman and Jordi Molla may be on opposite ends of the good/bad guy continuum but there's little to differentiate the two since they were merely directed to shout at subordinates. London set action sequences are adequately choreographed, but lacking in excitement, with DP Dana Gonzales (Empire State, 2013) trying to enliven generic urban locales within the metropolis, which somehow manages to make this year's earlier release of London Has Fallen seem much more engaging.
★/☆☆☆☆☆