Consuming Dystopia: Cronenberg's Latest a Morose Microcosm of Greedy Consumption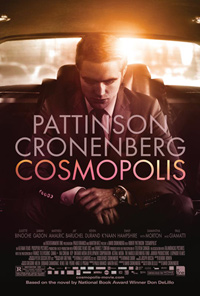 David Cronenberg returns to a familiar formula, that of creating a uniquely original film from notoriously "unfilmable" source material, this being the first adaptation of a work by Dom Delillo, Cosmopolis. Neither the best nor worst of Cronenberg's novelistic adaptations (Crash, from a novel by J.G. Ballard may forever stand as the most difficult to appreciate of these), Delillo's stylized dialogue, rhythmically intact, and a curiously subtle performance from a most unexpected source, makes this pretentious, foreboding, and mostly engaging mutant mostly a winner. Moving sluggishly along, it's like a new age creature melding the apocalyptic dystopian vernacular of cinema with the most current of current events. Perhaps it's a mutant that can't quite fly, but it's stank movements will certainly cause pause for reflection, one that will repel as equally as it may attract.
Robert Pattinson stars as Eric Packer, a demonic scion of capitalism and financial billionaire, deciding one fateful day that he must have a haircut from his father's barber, located clear across Manhattan. With the funeral of a famous celebrity and a scheduled visit from the US president, not to mention political anarchists organizing at fever pitch, and an over-saturated atmosphere of pessimism and paranoia as Packer has recently wagered his extensive fortune on a bet against the Chinese Yuan (a bet he has disastrously lost), means that both Manhattan traffic and Packer's current way of life are gridlocked. As he slowly makes his way across Manhattan in his pimped out limo, equipped with such advanced technologies that the inside is a vacuum that entirely blocks out the sound and movement of the bustling and angry city outside, Eric meets his newly acquired and already estranged billionaire bride (Sarah Gadon) for the three most important meals of the day, while indulging in sexual proclivities with a girlfriend (Juliette Binoche) and a newly hired bodyguard (Patricia McKenzie). Additionally he has fashionably intelligent conversations with his chief of technology (Jay Baruchel), a currency analyst (Phillip Nozuka), his finance chief (Emily Hampshire), and a heady discussion with a financial guru (Samantha Morton) about the art of money. As his head of security (Kevin Durand) tries to navigate Packer as best he can, they have a run in with a self-proclaimed pie assassin (Mathieu Amalric), mourn the death of Packer's favorite musician (K'naan) and a fated appointment with an armed former employee of Packer's, Benno Levin (Paul Giamatti), who aims to assassinate the financial magnate.
Cronenberg's Cosmopolis is extremely dialogue heavy, with plenty of lofty one-liners and extravagant ideas discussed in each lengthy exchange, all begging to be re-watched and unpacked for discussion. Pattinson's Eric Packer is a representation of that top 1% of the country's wealthiest, a consummate consumer, a spurious prince of capitalism, responsible for the continuation of the system but drastically out of touch with how it affects not only the cityscape but the country at large. As our porcelain protagonist, Pattison's Packer is more of a mirror on which we can project our paranoia, anxieties and discriminations. It is, perhaps, not a demanding role, but one in which, at last, we can finally forget it's Robert Pattinson for a moment and focus on the dark cinematic world Cronenberg flexes for us. If you think he's trying too hard to mimic Christopher Walken's New York accent, see how Kevin Durand out does him in every regard.
The tricked-out limo/vacuum floats through Manhattan like a spaceship, and the outside world looks alien to us from this perspective. While all these endless conversations seem confoundedly pretentious, certain magical moments of foreboding and loathing manage to present themselves in these ruminations and ideas. Pattinson is frequently filmed from aggravating angles, often from below or above, creating a distorted and unflattering aesthetic, perhaps dictating a waxing and waning of power in his conversations.
Three sublime and very different actresses create some of the best moments in Cosmopolis (Binoche, Morton, and Hampshire) and Cronenberg showcases, along with Hampshire, several homegrown Canadian talents like Jay Baruchel and Sarah Gadon, who was also in A Dangerous Method. While this latest entry in his filmography may not return to the classic Cronenbergian body horror motif, the notion of consumption is perhaps strongest here, both hypothetically and physically. This is best observed in his exchanges with Sarah Gadon as the estranged wife, withholding sex from her seemingly insatiable husband (a man not sated in any realm). He mysteriously finds her in three different locations in the city so that he can ask her to have breakfast, lunch and dinner, each time inquiring about when they will have sex again (though she can smell he's been having sex with someone else). Each time, she is perplexed by food, what she's ordered, ultimately unable to eat and certainly never hungry. Since she denies herself the consumption of food, she depletes herself as an object of consumption (and compare this to his sexually tense conversation with Hampshire during a prostate examination in the limo, demanding that she quit running for exercise, her feminine body should be heavy, sweaty, used for sex). This and two viscerally violent sequences point to Cronenberg's fascinations, and towards the end, during a highly fraught and devolving conversation with wannabe assassin Paul Giamatti, an encroaching score finally begins to creep in, previously absent (or unnoticed, as Howard Shore's score is heretofore discreetly used) and we realize that we listened to exchanges unsupported by the hum of life and the dictation of music.
A cosmopolis is an international city, one reflecting a notable variety in attitudes and cultures. But the entity that can consume them all can only digest them the same way. Difficult and certainly affected, Cronenberg has certainly made a film worthy of critical discussion.