Watch My Home Movie: Cory McAbee's Latest, Masturbation Or Art?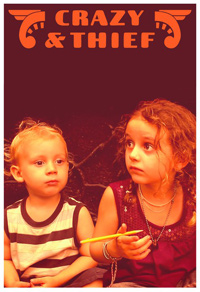 You may not know exactly what to expect from a Cory McAbee film, a man, who, with only one feature length film to his name, has a sizable cult following. His latest, Crazy & Thief is an hour long musical fantasy that may try your patience if you aren't particularly fond of watching aimless children or experimental nepotism.
One fine day in New York City, 7 year old girl Crazy (Willa Vy McAbee) take a splotch of blank ink, dots up a blank manila envelope, calls it a Star Map and takes her 2 year old brother Thief (John Huck McAbee) on a city search for stars not in the sky, but here on Earth. They find stars on bottle caps, on shop windows, as graffiti, etc. Hungry, they employ a scheme for young Thief to acquire food, but, not knowing any better, he only snags a lemon. Feeding some pigeons in the park, they get scared by a bum, termed Cyclops, who tells the children the story of Jesus and inspires Crazy to go to Bethlehem and find what's inside the contents of the third box brought for the baby Jesus. Crazy is certain that the third box is a time machine. Now, with a little more focus to their meandering, the two children are on a mission with a tangible goal. Another kindly man spots the unsupervised children playing under an overpass, where he takes them and buys them breakfast before trying to hold the children at his house until the authorities can make it there. Crazy, clued in to his scheme, runs away with her brother, until they eventually find a large, cardboard box, with the word Bethlehem printed on the side. In their minds, it is indeed what they've been searching for all along.
If you haven't already guessed, there's not a plotline to McAbee's latest film. Sure, he's got some cute kids, his two year old son's dialogue subtitled in an amusing, cute way, his daughter, amusingly towing her brother along on some endless journey. But even at a mere 52 minutes, this exercise feels like an arduous chore after several repetitive sequences. After some initial creepy tension when approached by a bum in the park, Crazy, in her childish innocence, interprets that book of gibberish, the bible, in the most logical sense possible by insisting a time machine was to be given to the baby in that one story. But McAbee's flights of fancy don't amount to much more than an elaborate home video of his kids running around the streets of New York, with an overabundance of tracks by the rock band that's scored his other works, The Billy Nayer Show, masking the fact that nothing's going on.
Referring to his latest work as a "love letter," McAbee asserts that detractors of the film just aren't getting along with him at the moment. But try as one might, it's hard to find much to like if it requires more than plain cuteness to work a spell on you. At the beginning of their pedestrian adventure to find stars, Crazy comments, "I bet we find something that's better than anything anyone's ever seen." Well, it's not this film.
Reviewed on June 19 at the 2012 Los Angeles Film Festival – Narrative Competition.
52 Min