Reviews
Criterion Collection: Muriel, or The Time of Return | Blu-ray Review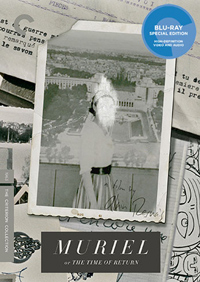 War, in some shape, way, or form, was infused in most of the famed early works of New Wave auteur Alain Resnais, who broke out with his famous short documentary Night and Fog in 1955 and the poetic war-time romance amidst the ruins in Hiroshima, Mon Amour (1959). After perplexing audiences with the puzzling and surreal Last Year at Marienbad, he would return to refracted atrocities with the less successfully received Muriel, Or the Time of Return, reuniting him with actress Delphine Seyrig as woman who runs an antique shop out of her home in the sleepy seaside town of Boulogne-sur-Mer. Also apparent is the director's fascination with notions of time, his characters here lost in either a nostalgic capsule, the stagnant present, or refusing to acknowledge an odious future which promises as much torment as the atrocities or lost opportunities holding on from the the past.
Widow Helene (Seyrig) lives a comfortable existence running an antique business out of her home in Boulogne, sharing the space with her step-son and burgeoning filmmaker Bernard (Jean-Baptiste Thierre) who has recently returned after serving in the Algerian war. For reasons she cannot quite explain because she seems to be suffering from memory loss, Helene wrote a fervent letter to her old romantic interest Alphonse (Jean-Pierre Kerien) requesting he visit. The lovers haven't seen each other since before the war, and it is intimated Helene really desired to be with Alphonse rather than the man she married. He arrives with his twenty year old niece Francoise (Nita Klein) in tow, a woman eventually revealed to be his mistress mostly concerned in the pursuit of an acting career. Mild jealousy ensues between the parties, especially when Francoise also strikes up an obvious flirtation with Bertrand, who claims to have a girlfriend named Muriel, which is really the name of a woman whose rape and possible murder he participated in during the war.
Surprisingly, Resnais was not a Cannes fixture, as were many of his Gallic contemporaries. While Hiroshima premiered in competition, he wouldn't play on the Croisette again until 1974 with Stavisky. Instead, Venice was his major platform, taking home the Golden Lion for Marienbad, and was subsequently where Muriel would premiere, netting Seyrig the Volpi Cup for Best Actress in a performance Andrew Sarris described in The Village Voice as "one of the most comprehensive portrayals of a womanly woman in the history of the cinema." The quality of Seyrig's performance notwithstanding (although she's sometimes defeated by a gray, frumpy spinster wig which looks about as charming as the one on Mrs. Bates' corpse), Muriel is a film about people stumbling through their 'present' but fixated on memories from a period in the past.
Resnais and Jean Cayrol (credited with scenario and dialogue) purposefully crafted a group of people who are somehow at least once removed from one another, in the familial or even emotional sense. The widowed Helene is only superficially invested in the psychological turmoil of step-son Bernard (she's more upset he refuses to eat the chicken she serves at dinner, making himself eggs, making room for the popular causality dilemma), whose father she wasn't particularly attached to in the first place. Bernard's self-professed phantom girlfriend, the titular Muriel, is a young woman we learn was brutally raped by himself and his comrades. Meanwhile, Helene's returned lover, Alphonse, another war veteran, is equally stuck in the romantic fixation he held for her decades prior, but brings along his niece as a distraction (in a move recalling Jacques Deray's La Piscine, recently revisited as A Bigger Splash from Luca Guadagnino), rightly predicting the widow will be a bit cagey seeing him aged. Everyone seems to be setting themselves up for certain failure.
Helene's very profession indicates not just transience (even the dishes she serves dinner on have already been sold) as she operates out of her own home, but her goods are refurbished antiquities, like herself, relics of the past garnering a certain solemnity thanks to their survival through the war. Boulogne itself is described as a 'martyr city,' bearing the marks of armed conflict, glory days for Alphonse, who describes himself as someone who was 'fairly important.' His dismay at Helene's recalcitrant behavior is met repeatedly by his remarking he was the one invited, to which she ends up frustratingly responding, "Can't we be done with the past?" Her oblique handwringing begins to reveal itself as something more catastrophic, a woman who stopped living emotionally ("later, I'll be my age") until her lover, or at least the idea of him, returns. Bertrand, on the other hand, is plagued by the offense against Muriel, a lover who has never left, a woman who, in fact, haunts the entire film like a choker, much like the war in Algeria, where an oblivious French citizen requests Alphonse share his experiences there since back home "we know so little of the issue."
Meanwhile, the landscape around them seems to be as equally befuddled, with a freight ship running aground in the finale, while Helene makes a mad dash to catch someone at the train station only to find it's long since been closed. "Things change," a random bicyclist comments as he whirs by, but for the characters trapped in Resnais' curious dislocations, it's their inevitable folly to resist the only constant offered by the universe.
Disc Review:
Criterion grants this underrated Resnais title with a new 4K digital restoration, and DP Sacha Vierney's frames (having worked on Resnais' past three major endeavors, this is their first feature in color) have a sort of resigned, deflated feel. The title was also the first major score from German composer Hans Werner Henze (who would go on to assist Volker Schlondorff in the New German Wave), sounding clear on the uncompressed monaural soundtrack. Editing takes on particular significance for Resnais, who reduces several moments to dislocated jump cuts further detaching us from these emotionally unmoored characters (here credited to Kenout Peltier and Eric Pluet).
Une Approche D'Alain Resnais, Revolutionnaire Discret:
An four minute plus excerpt from a 1980 television documentary about the work of Resnais directed by Michel Leclerc, featuring writer Jean Cayrol discussing his collaboration on Muriel:
L'invite Du Dimanche:
Delphine Seyrig discusses her character in Muriel and the differences during this production and Last Year at Marienbad in this four minute 1969 excerpt from a French television program.
Discorama:
Composer Hans Werner Henze discusses his musical score in this four minute excerpt from 1963's French television series "Discorama,"
Francois Thomas Interview:
Criterion conducted this half hour April 2016 interview with film scholar Francois Thomas, who discusses the filmography of Resnais and the culmination of Muriel.
Final Thoughts:
As Nita Klein's ingénue comments, "people with good memories have an easier life," suggesting Muriel is a subversive exercise regarding time as an endlessly swelling impasse demanding constant reconciliation—and those unable to grapple with their regrets are doomed to bewilderment.
Film Review: ★★★★/☆☆☆☆☆
Disc Review: ★★★★/☆☆☆☆☆