Wild In Part: Silva's Zany Mescaline Film a Pleasurable Trip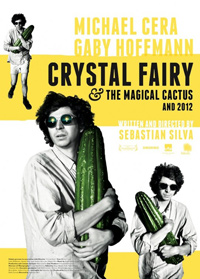 Chilean director Sebastian Silva debuts two new films this year, both starring Michael Cera, the first being a strangely idiotic road trip about a handful of young adults absconding to the desert for a hallucinatory experience in Crystal Fairy. While there may not be much here as far as Cera reinventing himself, leave any of that baggage at the door for this loopy endeavor that is most certainly unpredictable, especially given its simplistic narrative.
Jamie (Michael Cera), a privileged and incredibly imperceptive American on a seemingly endless vacation has been partying in Chile where he convinced a group of brothers (Juan Andres, Jose Miguel, and Agustin Silva—yes, they're related) to go on a road trip north to experience the legendary hallucinatory power of the San Pedro cactus. The night before the trip, Jamie drunkenly invites another American he runs into, a twirling free spirit type who goes by the name Crystal Fairy (Gaby Hoffmann). His drunken, and seemingly ambivalent nature also results in an invitation to some transgendered prostitutes for an innocent late night snack on the way home to his apartment. Waking up late the next morning, Jamie doesn't remember his half-assed drunken invite and is visibly dismayed when the eccentric young woman breezes into their trip, discussing the possibility of ditching her at every turn, which the mellow brothers balk at his suggestions, being much more considerable and polite hosts. He immediately begins a passive-aggressive battle of wills with uninhibited Crystal, who, besides going all natural, casually likes to be nude among her four male hosts.
Running into some difficulties finding someone to sell them San Pedro cactus, the overly insistent Jamie takes some desperate measures and the crew finally camps out to cook the cactus for the recommended twelve hours before. Before ingesting their concoction, the tensions between Jamie and Crystal boil over. But once their magical potion is ingested, the group comes together in surprising ways, the hallucinogens perhaps making Jamie at last reveal a tender side of himself.
During its first thirty minutes, Crystal Fairy is a hilariously entertaining exercise, filled with laughable deadpan moments from the moment Hoffmann, in a decidedly brave performance, steps on screen. Initially described by Jamie as a "lonely tornado" as she spins absurdly on a dance floor, she is presented as a hideous female incarnation—unaware of social cues, the comfort of others, yet kind hearted and well meaning in her way. Many of their laughs (and ours) at her expense. However, soon after the group manages to attain their beloved cactus, the film nearly comes to a halt, becoming a sort of tension filled repetition of the same scenarios before taking an even more serious turn before a sort of strange enlightenment is achieved. In truth, Crystal Fairy would be a damn near perfect oddity if its third act didn't feel so painstaking, unable to achieve the incredible high it achieves during its setup. While Cera is entertaining doing his usual schtick, the brothers Silva are incredibly appealing here. But this show belongs to Hoffmann, whose amazing performance is indeed a lonely tornado, someone entertaining and even moving to behold but who would wreak havoc in our own personal spaces.
Reviewed on January 17 at the 2013 Sundance Film Festival – WORLD DRAMATIC COMPETITION Programme.
100 Min