Disappearance | 2017 Toronto International Film Festival Review
Terms of Estrangement: Koole Poses Familial Woes in Chilly Scenes of Winter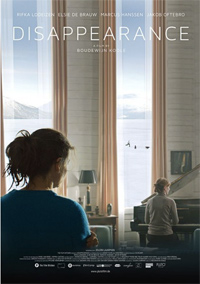 "Family is just accident…," remarks one of the tortured characters in Marsha Norman's magnificent play 'night Mother, famously adapted for the screen in 1986 starring Sissy Spacek and Anne Bancroft as a morose mother-daughter duo contending with the younger one's impending plans to commit suicide. Disease and estrangement are the central themes in the latest drama from Dutch director Boudewijn Koole, the rather discreetly titled Disappearance.
As an ailing woman tries to tie up loose ends, (which includes making nice with a cold, domineering mother), Koole seems intent on concocting a low-key version of Ingmar Bergman's Autumn Sonata, an inverse of the troubled father-son dynamic which was the highlight of his 2012 title Kauwboy, the well-received Dutch submission for Best Foreign Language consideration at the Academy Awards.
Norwegian photojournalist Roos (Rifka Lodeizen) makes her way home to the wintry landscape of her childhood to visit with her equally cold mother, Louise (Elsie de Brauw), who was at one point a celebrated concert pianist. Showing more affection for her energetic canines than her accomplished daughter, Louise reacts ambivalently to her oldest child's sudden presence. A warmer reception from Roos' thirteen-year-old half-brother Bengt (Marcus Hanssen) allows for better bonding grounds as she schools him on the behaviors of teenage girls and he includes her in his experimental mixtures of sound recordings, having audio samplings of everything in his environment (a sleeping Roos reminds him of a favored rustling tree). Ever so gently, Roos eventually reveals the reason for her plaintiveness on what could possibly be a final visit, though it takes a sexual encounter with an ex-flame (Jacob Oftebro) to melt her own steely resolve regarding her terminal diagnosis.
We've seen this tense dynamic before, in many a familial formulation, and Disappearance can't quite escape the shadow of Bergman (the aforementioned film replete with musical textures courtesy of the sparring mom and daughter duo realized brilliantly by Ingrid Bergman and Liv Ullmann). Dutch actress Elsie de Brauw hits all her resolute marks, and remains as distanced from the audience as she does Roos. When pressured to recognize some of the childhood trauma thanks to her parents' divorce, perhaps explaining the resulting rift between them, Louise foregoes any level of affection. "Not when I'm forced to," she explains, even as her daughter demands to know why her mother refuses to profess affection or love.
The weight of Disappearance rests on the shoulder of Lodeizen, who gives a subtle, sometimes inscrutable performance. It doesn't help Koole outfitted her with one of those deadly diseases allowing her to remain pristinely beautiful despite the scourge ravaging her innards, and one wishes some other catalyst hadn't been invented to bring her back to the childhood arena.
More interesting is the playfully frank relationship she develops with Bengt, including a naked sauna sequence about the bluntness of anatomy which would never be included in an English-speaking film. Beyond Bergman, the icy generalism of Disappearance also recalls Austrian auteur Götz Spielmann's last emotional tundra, October-November (2013), which pits sisters against one another on the homestead as they reunite in the wake of their father's death (itself another popular narrative conception).
Aptly performed and as chilly as could be, Disappearance is sometimes a bit too familiar. As naturalistic as Kauwboy, which was told from the eyes of its preadolescent lead, the tragedy of Roos doesn't strike the same clarity—its characters behave believably given the personalities painted for them, but fails to result in anything as profound or as resonating as its reach would suggest.
Reviewed on September 8th at the 2017 Toronto International Film Festival – Contemporary World Cinema Programme. 92 Mins.
★★½/☆☆☆☆☆