A Touch of Class: Zvyagintsev's latest slow burn reaches a masterful boil.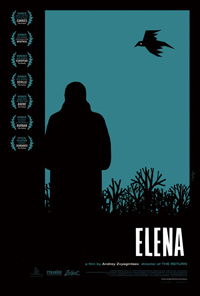 Over the past decade, one of the most celebrated new filmmakers to come out of Russia is Andrei Zvyagintsev, with his highly celebrated 2003 debut The Return, and the equally acclaimed 2007 film The Banishment. A filmmaker with a knack for teasing tense thrills out of seemingly banal human relationships, he returns with his best work yet, Elena. A class clash potboiler, it's a simple but deliciously hypnotic narrative about wealth and the queer way it tends to push people out of their comfort zones.
We're introduced to Elena (Nadezhda Markina), wife and caretaker to Vladimir (Andrey Smirnov), a couple in their mid-sixties comfortably living in an expensive apartment in Moscow. Through their interactions, we learn that they each have children from a different marriage and that Elena used to be Vladimir's nurse and, thus, married above her station the second time around. While Vladimir is very much estranged from his wild child daughter Katerina (Yelena Lyadova), he's been forced by default to keep Elena's deadbeat son and his ever expanding family afloat financially. Elena's oldest grandson has failed to achieve high enough grades to get into college and will therefore have to join the military unless his entrance to a university can be bought. Vladimir balks at the suggestion of having to fork over more dough to Elena's jobless son, causing feathers to be ruffled. But the situation becomes serious when Vladimir unexpectedly faces new health concerns, causing an unanticipated reunion with his daughter and his sudden desire to write a last will and testament, which may not benefit Elena's future.
Zvyagintsev once again utilizes cinematographer Mikhail Krichman, who juxtaposes beautifully the austere blues and sterile grey's of Vladimir's posh Moscow pad with the drab and frumpy browns of the suburb in which Elena's son lives. The blue hues of Vladimir's condo pulsate with certain iciness, Elena a complimentary but rigid fixture navigating throughout its frame, an effect mirrored in the pool scene when the lapping water nearly consumes Vladimir, sucking the life from him.
Moments of brooding perfection are reached with the accompaniment of Phillip Glass' original score, intensifying moments of dread, such as a beautiful crescendo when we first watch Elena travel from her expensive home to the suburban hovel of her deadbeat son and his hopeless family. Their nasty slovenliness perpetuates a nervous recoil, her journey akin to being reeled in by an invisible noose. But as intriguing and daring as our titular protagonist turns out to be, it's the smaller role of Vladimir's daughter, played by Yelena Lyadova that gets the best scene, spinning a hospital reunion with her estranged father into a realistic reconnection. That's not to discredit Markina's subtle performance, which works so effectively that you'll almost find her unreadable. Rather, her motives are transparent, and though they may result in arguably (yes, there's plenty of room for discussion) ignoble actions, Markina manages to even make her tears believable—she loves Vladimir…but she also loves her son and grandchildren.
Opening with a shot of Vladimir's apartment through some dead tree branches as the sun rises above, Zvyagintsev bookends his narrative with the a closing shot at nightfall, now enhanced by a sense of perverted celebration, like a murderous version of A Raisin In the Sun. Or, more appropriately, a film noir echoing Chekov's class squabbles. But whereas something like The Cherry Orchard ends with the devastating and sickly sounds of chopped wood, a massacre of a once wealthy estate, with Elena we peer voyeuristically through desolate dark branches, witness to rewards reaped reproachably, the land not reappropriated by a worthy successor, but infected by an undeserving entity. It's deliciously devious cinema, a beautiful package with a deadly bite.