Reviews
Far From the Madding Crowd | Review
It's All About Love: Vinterberg Revamps Hardy's Classic Romance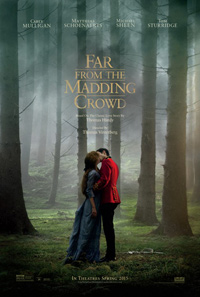 Inevitably, we would have seen some filmmaker tackle a revamp of Thomas Hardy's classic 1874 novel Far From the Madding Crowd, so it's mostly surprising to note that it wasn't Michael Winterbottom, who has made several Hardy adaptations since the 1990s. Instead, Danish director Thomas Vinterberg takes the reins from director John Schlesinger, who previously held credit for a famous 1967 adaptation starring Julie Christie, with Terence Stamp, Peter Finch and Alan Bates as the trio of suitors (and let's not forget to mention a modern reimagining of this novel, the comic strip serial Tamara Drewe, made into a film by Stephen Frears in 2010). Curiously, this is Vinterberg's follow-up to his 2012 critically acclaimed title The Hunt, which won Mads Mikkelsen Best Actor at Cannes and received an Oscar nod for Best Foreign Language Film, making it the most prolific work from Vinterberg since his Dogme 95 classic The Celebration (1998). David Nicholls (who adapted Dickens' Great Expectations in 2012, as well as a television mini-series version of Hardy's Tess of the D'Urbervilles in 2008) manages to streamline Hardy's text considerably into a manageable cinematic endeavor, and it's certainly a handsome production that actually manages to reach the romantic tone of Hardy's novel.
Bathsheba Everdene (Carey Mulligan) lives alone with an aunt, her parents having passed some time ago. She attracts the attention of Gabriel Oak (Matthias Schoenaerts), a local shepherd, who asks for Bathsheba's hand in marriage. Though she has no dowry and Oak has a small flock of sheep and stretch of land that would secure a cozy, yet uneventful future, she declines the offer. Soon after, a bit of misfortune befalls Oak, while Bathsheba unexpectedly inherits her uncle's estate and becomes quite wealthy. She meets Oak once again when he saves her estate from a fire and she hires him as a shepherd. Meanwhile, she accidentally becomes involved with the wealthy Mr. Boldwood (Michael Sheen), who lives next door. He also offers his hand in marriage, but she is reluctant to accept. Meanwhile, handsome young soldier Sgt. Troy (Tom Sturridge) finds himself alone at the altar when bride to be Fanny (Juno Temple) doesn't show up to the proper venue. Heartbroken, he manages to return to Weatherbury and runs into Bathsheba by chance. He's taken with her and the previously immovable Bathsheba finds herself hopelessly attracted to the soldier, leading to marriage, even though there are plenty of signs suggesting Bathsheba abstain from the union.
Those familiar with Schlesinger's picturesque 1967 adaptation will most likely find themselves comparing those attractive cast members to Vinterberg's assembly. Schlesinger's three hour version often seems to be consumed by the director's epic scope, the human quotient often swallowed by the film's sheer magnitude and ambitious detail. As Bathsheba Everdene, Julie Christie, though incredibly beautiful, was arguably miscast, and it's refreshing to see the earthier Cary Mulligan imbue this role with a gracious sincerity. As compared to other of Hardy's works, Crowd is actually considerably more cheery, and Bathsheba is on a shortlist of classic female protagonists with agency, having more control to shape her destiny than her male counterparts. As compared to the tragic Tess, another Hardy heroine lodged between rival suitors, Bathsheba's ability to choose (or not choose) a husband places her at an opposing, privileged perspective.
Vinterberg's ability to churn this into sweeping romance is questionable, at least as far as the film's marketing would lead you to believe (Hardy's novel isn't quite in the same league as more popular titles by the Bronte sisters, for instance), but it does satisfyingly depict that amusing predicament concerning the laws of human attraction, wherein people tend to reject those that are interested in them and actively pursue those that are not.
Michael Sheen, in the role once meant for Peter Finch, makes the least impression, his character something of a convenient implement for the happy outcome. Relative newcomer Tom Sturridge is sufficiently capricious as the handsome soldier that finally steals Bathsheba's repressed romantic longing. Not surprisingly, Matthias Schoenaerts shines as the long suffering lovelorn farmer, who appears to have serviceable chemistry with Mulligan. Perhaps not sweeping but romantically equipped thanks to Mulligan's engaging performance, Far From the Madding Crowd is a satisfactory version of Hardy's text, capturing the beauty of the English countryside thanks the DoP Charlotte Bruus Christensen (who has lensed Vinterberg's previous two features).
★★★/☆☆☆☆☆