Reviews
In the Name of My Daughter | 2015 COLCOA French Film Festival Review
Scene of the Crime: Techine's Overly Involved True Crime Saga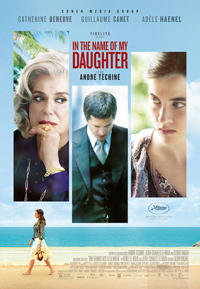 Too often, In the Name of the Daughter, the latest from auteur André Téchiné (and his seventh to feature Catherine Deneuve), feels like a missed opportunity, trying to play too many angles when it could have been more powerful following one strategic aim. Psychological thriller, jilted love story, historically inspired mafia fueled casino war rivalry, a powerful female crusader, a strange two decades late trial, and an unsolved murder mystery are all bundled up in here, and sometimes this leads us through a fascinating maze. However, the film works best as a relationship study, featuring a pair of performances that are at, the very least, enjoyable. But much like his last film, 2011's Unforgiveable, the French helmer is increasingly less interested in the why or how of his narrative, and maybe his wayward neglect for traditional storytelling explains a bit of the lukewarm response the film received after bowing out of competition at the 2014 Cannes Film Festival.
Retracing the 1970s Le Roux case in Nice, France, wherein Madame Renee Le Roux (Deneuve), owner of the Palais de la Mediterranee, the last casino on the Riviera not owned by the mob, eventually succumbs due to a lack of support. This includes her daughter, heiress Agnes (Adèle Haenel), who recently returned home to collect her inheritance after a recent divorce. Due to the difficulties she had in maintaining the Palais, Madame Le Roux was unable to satisfy her daughter's request, which would eventually cause their fallout thanks to the advice of Le Roux's former advisor, Maurice Agnelet (Guillaume Canet), upset because he was bypassed for a lucrative position at her casino when she assumed leadership. Agnes allows herself to fall for this insidious Svengali, who initially reciprocates her affection. But soon, Agnes finds herself unable to live without him, a desire Maurice never promised he would fulfill.
Looking tres chic, Deneuve dominates the first act of the film, rocking that blonde coiffure in her vintage ensembles, striking a rather sympathetic figure when all is said and done. Despite her obvious faults as an inattentive mother, (something the film doesn't really bother to address), there's a sense of betrayal that Téchiné manages to nail quite astutely. However, Daughter overly sympathizes with Renee La Roux, perhaps because this was partially adapted from her own memoirs.
In the Name of the Daughter may not be the best of her several collaborative efforts with Téchiné, but it makes a nice companion piece to another vintage inclined Deneuve performance in Francois Ozon's 2010 Potiche, where she becomes the unwilling head of an umbrella company in the 1970s (ah, the multitudinous layers of reference). We're invited into one, brief moment of reprieve that finds the actress singing along emotionally to an Italian cover of "Stand By Me." Compared to Téchiné's own oeuvre, this feels similar to his 2010 drama The Girl on the Train, which starred Deneuve in a supporting role in another true-life bit of weirdness concerning a girl who lies about an anti-Semitic attack.
By the time we learn the sprawling magnitude of weirdness here, including a distracting final portion set over twenty years later wherein Canet's old man make-up makes him look more aged than Deneuve, it feels like we were left with a murder mystery that never quite felt mysterious. Renee La Roux's son also wrote a memoir that figured into this adaptation—but no one found a place for him to figure into the film.
As Maurice Agnelet, Canet is appropriately smarmy, but he's kept purposefully undefined, which is arguably appropriate considering his actual involvement with the disappearance of Agnes Le Roux , not to mention Téchiné's wish to maintain an air of mystery to the unsolved case (less appropriate is why the mother/daughter rift isn't explored beyond a bit involving Adele being forced into ballet as a child). As such, the film feels like too much conjecture, a bit like Andrew Jarecki's 2010 true crime film All Good Things.
What Téchiné does capture convincingly is a portrait of a woman unraveled due to manipulation and neglect. Recent Cesar award winning Adèle Haenel is superb as the unfortunate heiress, and she steals a handful of sequences, whether they are innocuous bits where she performs an African dance, or a nasty bit that finds her voting against her mother at a casino board meeting.
Téchiné collaborates once more with DoP Julien Hirsch, and they draw us in as they capture the sun-soaked decadence of Nice, only to increasingly close us into the cramped interiors of Agnes and her predicament. A recurring picture of her character as a child, taken while forced to perform the ballet she loathed, Téchiné invites us to stare into these deep wells of disappointment too many times for us to seriously contemplate what he's trying to say about Agnes growing up with someone else always dictating her actions.
Reviewed on April 27 at the 2015 COLCOA Film Festival – 116 Mins.
★★½/☆☆☆☆☆