Holly | 2023 Venice Film Festival Review
The Girl with All the Gifts: Torch Tiptoes into Genre with Aloof Drama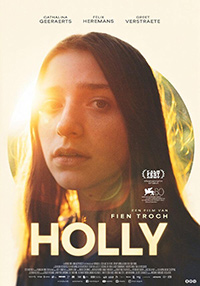 Belgian director Fien Troch has built a steadfast filmography on quietly painful films featuring families with eroded veneers, struggling through transitional periods of varying dysfunctional degrees. She often seems to focus on the experiences of teens and children (or adults consumed in their relationship to them), and in many ways, her fifth film Holly is a return to these same thematic devices, aided by an extravagant supernatural element.
The eponymous fifteen-year-old is something of an odd bird, an outcast amongst her peers and a lost cause for school staff until one fine morning she makes a sinister phone call regarding a premonition, one which turns out to be frighteningly accurate. How the community responds to the teen and her emotionally defined second sight leads Troch into familiar territory of social parables, in ways which begin intriguingly but stagnate in a languid pool of ideas weighing down facile characterizations.
Holly (Cathalina Geraerts) is a social outcast at school, her only friend being the neurodivergent Bart (Felix Heremans) and his dog, Mito. Teased by other peers for her strange ways, nicknamed 'the witch,' she has a bad feeling one morning, calling school to announce her absence due to something terrible she senses. A fire ravages the school, killing several. Nine months later, Anna (Geert Verstraete) a well intentioned teacher who seems to tax the patience of her apathetic peers, coordinates an excursion meant to be a healing retreat for family members of the victims, lassoing Holly to be a volunteer. On the trip, she notices Holly seems to have an innate ability to help people expiate their grief when she hugs or caresses them. It's not long before Anna starts arranging for Holly to meet with other members of the community outside of school, allowing the young girl to develop her own connections as her reputation grows, and with it, noticeable profits. Anna eventually begins to sour on Holly, resentful about her own limitations in assisting others and plagued by an inability to become pregnant. And then the demand for Holly's services gets out of hand.
In many ways, Holly feels like she suffers the opposite fate of the Trojan priestess Cassandra, doomed by Apollo to reveal accurate prophecies no one will believe until they've already happened. The way in which Holly's family and the highly unrefined student faculty members seemingly embrace her abilities is a factor Troch never quite addresses, which seems pertinent considering Holly's reputation prior to the fire, where she was already taunted and teased as 'the witch' at school, to the degree even counselors were aware. Likewise, Geert Verstraete's Anna, who is either a counselor or a teacher or both, but whose saintliness fades away when her own desires regarding fertility are thwarted, feels like an afterthought meant to conjure tension.
The whole point of Holly seems surprisingly conventional, a martyred innocent who is crushed beneath the weight of an agonized society, all suffering from some innately impregnable need which allows their own desires to eclipse Holly. In other words, she's the life vest for a whole community of emotionally drowning citizens. The whole thing feels like Stephen King's narrative DNA splashes into a kitchen sink drama, but limited by its petrie dish parameters when it needs a much bigger pot to play in, mutating into some gnarly little monster hobbled by its inability to break free from its tiny prison.
Troch's tone in Holly feels similar to the same genre-light art house exercises of recent memory, such as Joachim Trier's lesbian telekinetic drama Thelma (2017) and his screenwriter Eskil Vogt's film The Innocents (2021), where psychically gifted children experience a dangerous battle of wills one Norwegian summer.
While Vestraete initially conveys some interesting tension as Holly's guide, trying to control the girl like a pimp doling out her mystical sessions as a way to heighten her own self worth, Troch abandons this storyline as Holly begins to harness control, recognizing the inherent monetary value of her gifts. However, Cathalina Geraerts is never allowed to really stretch her wings as Holly, a naive waif who is eventually martyred by the community, including an opportunistic family who are like Dickensian parasites, taking advantage of Holly's lack of entrprenerial prowess.
A scene in a Chinese restaurant where some fellow patrons demand Holly be celebrated despite her reluctance turns into a campy spectacle, while a synthesized score which sounds like something from a John Carpenter film promises a lavish build up but goes nowhere. The final moments of Holly are perplexing, suggesting a continuation of her abilities through a different spiritual conduit, supernaturally radicalized, it would seem, to suggest vengeance might be on the horizon. But since Troch's light foray into genre makes Holly feel like the fantastical version of her 2012 title Kid but without any real establishment of dread or anxiety, the whole production feels like an aimless infringement on the kind of travails Lars Von Trier exacts upon the innocent women his narratives smelt down to nothing.
Reviewed on September 7th at the 2023 Venice Film Festival – In Competition. 102 Mins.
★½/☆☆☆☆☆