Sea Notes: Stanton Revisits Little Lost Fish in the Wide Blue Yonder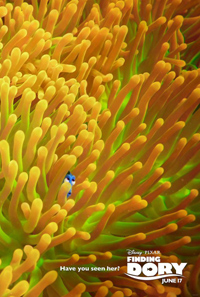 To many, 2003's animated Pixar film Finding Nemo is considered an iconic title, particularly for the millennials and beyond, despite its recycled themes of anthropomorphized families struggling to reunite after tragedy has torn them asunder (as seen to equally great effect in previous cartoons, like 1986's An American Tail or 1988's The Land Before Time. Director Andrew Stanton reunites his beloved trio of fish from the first film to focus on the backstory and subsequent journey of the forgetful little blue Tang voiced by Ellen DeGeneres for Finding Dory. Those moved to baleful tears from the adventure experienced by Marlin attempting to save his only surviving son Nemo may be less satisfied by Dory's similarly structured reunion with her parents, but a surplus of entertaining supporting characters at least matches the energetic delight of the previous chapter, including a particularly entertaining gag throughout involving Sigourney Weaver voicing herself.
A year after Nemo was saved from certain death after being plucked from the ocean and gifted to a the maniacal niece of a daffy dentist, the little orange clown fish and his sarcastic dad Marlin (Albert Brooks) have more or less adopted Dory (DeGeneres) as part of their family. But dealing with Dory can sometimes be a challenge. However, she is jolted into remembering childhood memories, discovering she became separated from her parents as a child and wasn't able to remember how to return home. Now, she knows they're somewhere off the coast of California, and she convinces Marlin and Nemo to cross the ocean a second time so she can be reunited with the parents she may not have remembered but always felt as an absence.
Technical credits are seamless and superb, and Pixar remains one of the rare entities whose sequel properties are as meticulously and thoughtfully packaged as their original features. The real problem with Finding Dory (for those who actually find it to be a problem) is the inherent issue of anchoring a film with a wholly annoying character. Dory is a rather frustrating personality, unflaggingly sweet but so hopelessly forgetful her existence seems the stuff inspired by a Kafkaesque nightmare. Her constant forgetfulness grows old quickly, more so than her supporting doses in Stanton's Nemo, because, after all, this is her, uh, bildungsroman (though condensed for fish time, since her species has a life expectancy of eight to twenty years).
Imagine a standalone film for a character like Marv from the Home Alone films, a dunce conveniently on hand to prime the spring for all the best gags, and you'll see why Dory makes an empathetic character but one without the same level of emotional investment since her memory loss relegates her sweetness to a mere byproduct of cordial, superficial pleasantry. The prelude to Finding Nemo depicts the cruel realism of Mother Nature with all the terror of a preadolescent rendering of The Rite of Spring. Here, Dory's parents are the culpable agents, the concept of neglect never conveniently expunged during what should have been a more meaningful finale.
Stanton, who included Sigourney Weaver in his 2008 film Wall-E, makes use of the actress again as a running gag in Finding Dory as the recorded voice of the Marine Life Institute, playing off her reputation for narrating a multitude of documentaries pertaining to nature and the environment, particularly the US version of Planet Earth. A cantankerous octopus voiced by Ed O'Neill, a nearsighted whale shark voiced by Kaitlin Olson, and a hypochondriac Beluga voiced by Ty Burrell (who is used to facilitate a slick, funny homage to Tom Skerrit's denouement in Alien) are all winning side characters. Idris Elba and Dominic West get to voice a pair of slothful seals who introduce two of the film's recurring gags involving another buffoonish seal and a creepy bird named Becky who provides airlifted passage in a bucket for Marlin and Nemo. Others, like the saccharine sweet parents of Dory voiced by Eugene Levy and Diane Keaton, try too hard to squeeze sentiment out of a reunion which could have used a more significant backstory than Dory's wanly explained handicap.
Entertaining, joyful, and as playfully intelligent as its predecessor (the scrambling of Bailey's sonar during a chase sequence is maddeningly gleeful), Finding Dory is solid fare, even if it only manages to rehash the same dramatic components. The accomplished styling of Sia converts Nat King Cole's signature Unforgettable track into a rather forced yearning over the credits—and much like Finding Dory itself, you may find yourself craving the original emotion which made this film possible in the first place and wish someone had managed to have Nat and daughter Natalie Cole's (who sadly passed away on December 31, 2015) duo recording instead.
★★★/☆☆☆☆☆