Reviews
Central Intelligence | Review
Little Big Man: Unlikely and Illogical Buddy Comedy Runs on Vestiges of Charm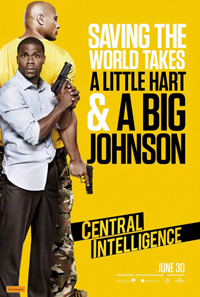 The usual formula we're used to seeing in the tireless buddy comedy genre gets another facelift in Central Intelligence, a PG-13 hampered comedy forced to rely entirely on the likability from the expected brand of its lead stars. This isn't a bad thing, necessarily, and director Rawson Marshall Thurber, making his first appearance since 2013's more or less affable We're the Millers, remains compliant with the current studio climate of generating mass appeal at all costs whilst managing to elicit some laughs along the way. It's title suggests nothing more than the superficial inkling of an idea which generated the story and screenplay from David Stassen and Ike Barinholtz (who you might know from his supporting turns in items such as the Tina Fey/Amy Poehler comedy Sisters and Neighbors 2) and conveys all the appropriate requisite messages about bullying, homophobia and male bonding while simultaneously delivering on the sensational bits of violence American culture still deems to be acceptable. In other words, this is another innocuous comedy built on a woefully insipid narrative disguised by likeable celebrity personalities, an enjoyable bowl of buttery popcorn with its nutrition label conveniently smudged by its own greasy lipids.
Calvin 'The Golden Jet' Joyner (Kevin Hart) was the multifaceted popular all-star in high-school, the most likely to succeed out of his graduating class in 1996. Just as he is crowned with a final denouement in the auditorium, the school's least popular student, the obese Bobby Wyrdick (Dwayne Johnson), is the victim of a traumatic bullying incident, his body tossed naked onto the auditorium floor by a group of cruel students. As the faculty and student body laugh derisively, Calvin is the only person to show Bobby any kindness. Fast forward twenty years, and Calvin is now a disillusioned accountant who married his high-school sweetheart, Maggie (Danielle Nicolet), herself a successful lawyer. Their marriage is strained by Calvin's disappointment in himself and he plans on avoiding their twenty year class reunion when he suddenly receives a strange friend request on Facebook from someone named Bob Stone, who turns out to be the bullied kid from high school. But all grown up, Bob has grown into a hulking, top secret CIA agent who still displays a bit of social awkwardness. Calvin is impressed at Bob's transformation but is quickly dismayed when he finds himself in a nasty situation since his old acquaintance has gone AWOL in an attempt to clear his name. Accused of murdering his old partner (Aaron Paul), Bob must prove his theory about a super-secret spy known as the Black Badger, a villain intent on selling satellite encryptions to enemies of the US. But Agent Pamela Harris (Amy Ryan) believes Bob is the culprit. Unsure of who to believe, Calvin wonders if he should assist Bob or sabotage his efforts to clear his name.
On paper, Central Intelligence sounds absolutely asinine. And it is. Supporting players like Aaron Paul, Amy Ryan, and Thomas Kretschmann are forced through graceless bits of dialogue as the remnants of the semi-serious framework of the narrative—it's easy to see they're having fun being included though none of their sequences were given the sort of leeway afforded the film's selling points. And Jason Bateman appears in a role reminiscent of his turn in Joel Edgerton's The Gift (2015).
But there's a degree of winning sentimentalism here, thanks mostly to a charming and impressively disarming turn from Dwayne Johnson, once again proving his underrated comedic skills. Much of the comedy is built entirely around the already established personas of Hart and Johnson and their opposing physiques. In an era of increased gender policing, especially regarding the annoyingly persistent championing of masculinity (and the inherent misogyny and homophobia whenever femininity or flamboyancy are demeaned in our new, contemporary euphemisms of degrading language), the treatment and affection Central Intelligence has for Johnson's resilient character deserves acknowledgment.
There are glimmers here where the film plays like more than a mere PSA of progressive sentiments meant to showcase the increased awareness of the heteronormative majority thanks to Johnson (and achieved more successfully than the broad racial stereotyping between Hart and Will Ferrell in Get Hard). Although it's arguably one more studio comedy designed for the masses merely conceding LGBT characters deserve consideration without actually daring to display them in relevant or prominent roles, Central Intelligence may be dumb, but it's sweet and kindhearted. And in an increasingly indifferent and remorseless world where ignorance and unchecked bigotry continues to abet violent corollaries, there's definitely something of value here.
★★½/☆☆☆☆☆