Reviews
For a Woman | 2014 COLCOA Review
Mother Load: Kurys Revisits Plight of Parents in Post WWII France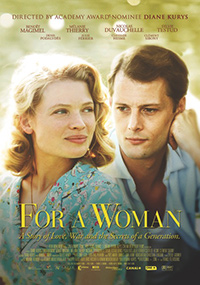 For those familiar with the work of director Diane Kurys, the material that inspired her latest film, For a Woman, may seem old hat. What seems to serve as the third installment of a rough trilogy concerning the lives of her parents (while Kury's first two features seem to be about her own childhood) shortly after World War II, was first realized in her excellent 1983 film, Entre Nous, then again in 1990's C'est La Vie. Comparatively, this latest chapter serves as the weakest of the three, but that's not to say it isn't compelling and engaging. More often than not, it's a tensely paced period piece with one or two notable performances, even as it's needlessly set in the early 80s, waffling back and forth between flashbacks to the meaty past, where it could have been entirely set.
A novelist and filmmaker in early 1980s France, Anne (Sylvie Testud), discovers photographs of a handsome stranger among her deceased mother's belongings. Her father, Michel (Benoit Magimel) is reluctant to speak about the man, who just happens to be his brother, Jean (Nicolas Duvauchelle). And so, we return to post-war era France, where Anne's mother Lena (Melanie Thierry) is just settling down with her husband Michel after he saved her from a concentration camp. Having just birthed her first child, the young family depends on the income provided from Michel's struggling menswear shop. Suddenly, Michel's brother, who was thought to have died in concentration camp and whom no one has seen since childhood, materializes, needing a place to stay. It's made clear that while Michel fought for the French, Jean fought in the Red Army. Political intrigue rears its head and it seems that Jean may be involved in some sort of nefarious espionage when a suspiciously nonchalant comrade shows up (Clement Sibony) at around the same time. But what could have happened that was so bad not to speak about him ever again?
Considering the likes of Isabelle Huppert and Nathalie Baye portrayed Lena Weber in the previous films, a lot of emphasis rides on the casting here, and actress Melanie Thierry seems an ill-fitting choice. She's a lovely young face, but she doesn't evoke the frustration and allure of Lena as evidenced in the prior titles. We're covering a similar time frame to Entre Nous, as here we witness the meeting of Lena and Mathilde in this episode, a relationship which would develop intensely and mark Entre Nous to be what many consider an early 80's queer classic. Here, Mathilde is a relative counterpoint to the staunchly monogamist yet somewhat unhappy Lena. So it comes as a bit of surprise when Thierry's Lena suddenly jumps into the arms of her husband's brother seeing as they've barely exchanged furtive glances.
Interrupting the Therese Raquin-ish proceedings of Lena's predicament is the continual return to the early 80's with Testud standing in as Kury's onscreen amalgamation. It provides a framework for the other secret strand of familial history Kurys wishes to extrapolate, but it only serves to enhance the tale as a mere interesting footnote rather than the defining legacy of her parents' complicated relationship. Benoit Magimel and Nicolas Duvauchelle are definite highlights, particularly Magimel as a naive fuddy duddy (though his time in old man make-up in the 80s scenes are thankfully limited). Testud is always a welcome screen presence, as throwaway as the role of Anne tends to be here, likewise the elegant Clotilde Hesme. For a Woman is an altogether enjoyable film from the steadily working Diane Kurys, and as for those new to her work, it will hopefully serve as a thread of intrigue leading to her previous titles.
★★½/☆☆☆☆☆