Reviews
We Love You, You Bastard (Salaud, on t'aime) | 2014 COLCOA Review
A Man and His Women: Lelouch's Latest a Lumbering, Bloated Ensemble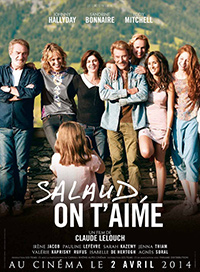 Nearing his 80's and with over fifty credits to his name, Oscar and Palme d'Or winning director Claude Lelouch bows his latest venture, We Love You, You Bastard, co-written with writer/actress Valerie Perrin, a title that elicits the kind of chuckles the film itself does not. A dysfunctional family drama harpooned on a comedy of errors scheme flaccidly spins into an ellipses of Bunuelian progeny patterns before a sharp left into Agatha Christie territory extends the running time by an unnecessary forty five minutes. With a varied cast of major French talents, there are a handful of successful moments, but without pronounced payoff. At best, a fluff piece showcasing some industry pros, the increasingly erring narrative mistakes wonky details for subtle prowess and is unfortunately a grating effort from the master director, whose other more recent credits like the Fanny Ardant headlining Roman de Gare (2006) hinted at more gleeful titles to come.
Famed photojournalist Jacques Kaminsky (Johnny Hallyday) and his wife Bianca (Agnes Soral) arrive in the wintry Alps to look at a sizeable log cabin property they've an interest in buying. Natalie (Sandrine Bonnaire), the real estate broker, quickly realizes that it's Kaminsky who has the sole interest in the property, his busybody wife dropping obvious hints that the property is located much too far from the lively Paris, where they currently life. While Bianca bustles about on the phone with their lawyer, currently trying to put out a fire started by Kaminsky's eldest daughter, who apparently just published a Christina Crawford-ish memoir about Kaminsky that bears the title of the film, Nathalie and Kaminksy get cozy awful quickly. We learn that Bianca is his fourth wife and he's had a daughter with each of his nuptial collaborators, hinting that he hasn't been the best dad. Skeptical but attracted to him, Nathalie doesn't seem to mind, so Kaminsky buys the property and leaves a note for Bianca that she's always welcome to drop in at the cabin. While Nathalie moves in with him, her adolescent twins in tow, Kaminsky invites his best pal, Dr. Frederic Selman (Eddy Mitchell) to his new pad, along with his four daughters that are still avoiding him. Upset to see Kaminsky mourning the absence of his kids, Frederic calls them up to tell them that their father is very sick and doesn't have long to live. Within hours, the four women appear, including eldest Spring (Irene Jacobs), then Autumn (Sarah Kazemy), Winter (Jenna Thiam), and Summer (Pauline Lefevre). Of course, it isn't long before Frederic's lie is revealed which causes loads of drama, along with the announcement of a new family member no one had previously been informed about (Valerie Kaprisky).
Initially, while dipping unabashedly into hokey dynamics, We Love You, You Bastard has scruffy promises, especially considering the caliber of actresses like Bonnaire and Jacobs along for the ride. So when all these ladies finally arrive, expectations are high. But while the energy of the film is suddenly elevated, the plot tends to whirl in repetitive circles rather than actually examine the relationships of the characters at hand. Aged rockers Hallyday and Mitchell are considered national treasures in France and perhaps aren't familiar to Western audiences as they once were. While it's a pity, their off-screen reputations seem to be the draw here since, beyond a fun sing-along to Dean Martin and Ricky Nelson while watching Rio Bravo, they're not really playing well developed characters, just a pair of old codgers allowed to be loved despite their incessant immaturity.
Hallyday, whose grizzled and frozen visage works well in fare like Johnnie To's Vengeance (2009) appears to be unforgivably uncharismatic here, especially for a character that all these lovely ladies seem helplessly drawn to. There's absolutely no chemistry with or character granted to Bonnaire in this throwaway role, even though her lovely smile still lights up the screen. The daughters compete amongst themselves for memorable screen time, some getting lost completely (Lefevre), while Thiam proves to be a general annoyance.
A third act surprise will most likely leave you reeling, especially as it wraps up a mystery with all the grace of condensed television thriller, only to finally end after two hours plus of screen time with a group of women professing to miss the man most of them never quite cared for in the first place—a man whose charm and suaveness are never translated beyond the fact that he never tired with bedding the women he crossed paths with. Initially, the film begins with some interesting visual flourishes, a multitude of shots framed by and through windows obfuscated by reflections or outside events like storms and rain, perhaps meaning that we're forever on the outside looking in on these people, invited to watch but not to penetrate or be enveloped in their petty dilemmas. But ultimately, all these nifty tricks fall to the wayside as the narrative desperately tries to be meaningful and entertaining.
Reviewed on April 21 at the 2014 COLCOA Film Festival – Opening Night Selection.
★★/☆☆☆☆☆