Reviews
Fuck For Forest | Hot Docs 2013 Review
Exploits For Earth: Marczak Gazes Into The Gutter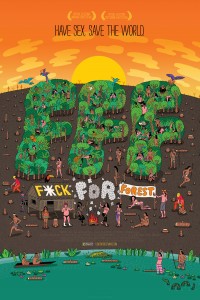 After the breakout success of his docu debut At the Edge of Russia, Polish director Michal Marczak found himself following the sexual and political exploits of Fuck For Forest, a Berlin based organization whose core beliefs link the free-sex ideology of the 60s and 70s with a save-the-world objective that leap-frogs off the back of exotica. To be frank, they produce porn – gritty, no cost productions starring themselves or willing participants plucked off the street. The resulting material is distributed via their website for a fee banked with the intention of promoting environmentalism. Or, at least that's the plan. Marczak's meandering exposé often feels as free spirited as the nebulous group of stargazing activists that make up the porn peddling agency it tracks, but in their blindly thrusting propulsion his film finds a fascinating conundrum of culture clash and wasted potential.
Fuck For Forest (FFF) have made a name for themselves over the past decade, causing controversy through political transgressions of on stage intercourse and the like, but Marczak makes no mention of this. Wanting us to empathize with these odd ball activists, he presents them as spacey dreamers, free of their pasts, always living in the moment. This could mean passing flyers out in the streets of Berlin, hoping for a free spirit to accept an invitation to save the planet with their naked bodies. It could mean dumpster diving for their daily meal to save from waste and personal expenditure. It could mean settling in with an audience at a make shift performance space where FFF members lethargically improvise songs until others break out in the gushing gore of a public fuck. If these young men and women had been born of the hippie generation, they would have fit right in, but today they seem little more than absent minded idealists who wholly believe in a pair of vaguely defined causes.
Up to this point it's their candid sexual displays that surprise, but it's when the group decides to venture deep into the jungles of Columbia to meet with indigenous tribes that the real shocks begin. After long flights and all night river rides, the foursome are greeted with open arms by a group that is thoroughly taken with their clownish attire, willingness to partake in local ritual and passion for public nudity. In this aboriginal culture, they seem more at home than they ever had in their European homeland. Hoping to provide a means to maintain forests in the region, they organize a meeting of several tribes in the region to pitch their patronization, but it is here where the group has gravely miscalculated the cultural animus. Despite their pure intentions and free-wheeling nature, they are still money wielding imports with little focus in their flimsy proposition. In blindly offering financial hand outs, they incite confused anger among the crowd, who above all else seek employment. In the midst of this communal outrage, Marczak sharply cuts to another group successfully making their own pitch, theirs of the utility of chainsaws.
Like plenty of failed enviro-movements of the past, the members of FFF mistakenly believe sexual freedom and planetary conservation are two sides of the same coin, but that thought doesn't even cross their minds. Regardless of their supposed financial success, their laughable appearance, overall lack of vision, and shockingly graphic displays of provocation that claim love yet feel hallow have undoubtedly held them back from their altruistic goals of forest preservation and public personal expression. Marczak shows them flourish then flounder in all their blundering glory, displaying with genuine compassion a group fully committed to their cause, for better or worse. In the face of their unyielding hope, Fuck For Forest seats itself as a tragic depiction of bi-polar culture shock in which the black sheep self-righteously pose as shepherds but inevitably fall to the wolves of their own creation.
Reviewed on April 26th at the 2013 Hot Docs Film Festival – Nightvision Programme. 85 min