Climate Control: Deller's Debut Features Compelling Lead Performance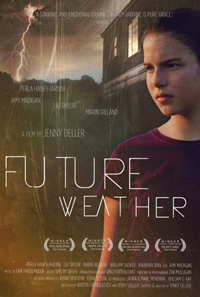 For her feature film debut, writer/director Jenny Deller has made a solidly crafted film, Future Weather, which is grounded with an extremely likeable performance from its lead rising star. Using global warming as a motif that parallels and intermingles with the coming of age of a young woman from a dysfunctional family in rural Illinois, there's a comfortable warmth to Deller's scenario, along with a notable amount of character development, even with more peripheral figures.
While certainly expounding a 'green' message, (Deller was awarded a grant through Alfred P. Sloan Foundation, which supports the representation of science in entertainment), the film, for the most part, manages to avoid being a mere mouth piece of passionate ideas, instead focusing on one teenager's ambition to effect positive changes in a world that needs it, unable to control the own dire circumstances that surround her.
Lauduree (Perla Haney-Jardine) is at the top of her class in school, a precocious thirteen year-old with a particular passion for the environment and developing ways to save it. Her home life, however, is another story. It seems mom Tanya (Marin Ireland) had Lauduree at a very young age, her obsession with all things French led to the rather gauche naming of her daughter (Lauduree is a famed company known for luxury cakes and pastries), though the two get along chummily in a rented mobile home outside of town. That is until Lauduree suddenly comes home one day to find that Tanya has skipped town for California, leaving fifty dollars to a note that states she's going to follow her dreams and do make-up for the stars.
Lauduree, though wise beyond her years, is unable to keep pretending that mom Tanya has left her, and her cover is blown when she's caught shoplifting expensive light bulbs. Enter her commanding grandmother, Greta (Amy Madigan), who scoops up Lauduree and takes her back to her house, where she is in final preparations to move to Florida with her own fiancé, Ed (William Sadler). While Lauduree thankfully has a confidante at school with her warm and friendly teacher, Ms. Markovi (Lili Taylor), and the admiration of a fellow student, Neel (Anubhav Jain), she's not able to confess what's really going on in her own life with either of them, at first. While Greta, a force of nature who truly does have her granddaughter's best interests in mind, must decide whether to uproot Lauduree once again, or possibly forget the idea of retirement in Florida with Ed, Lauduree must decide how she must adapt to her new set of circumstances.
Lauduree's obsession with global warming is at times a tad grating and even trite, but Deller seems to hit the right notes of painful adolescence, showing us a teenager who oftentimes knows more than her guardians or peers and hides passionately behind ideals that grant her a certain amount of control with her life. With the exception of one questionable scene where Lauduree has a meltdown on a neighborhood street corner, a garbled tirade about the environment and pollution spewing forth as other characters show up conveniently for a little dramatic effect, Future Weather is altogether a notable first feature, which is mostly due to a subtle yet endearing performance from Perla Haney-Jardine, a child actress who first debuted in Quentin Tarantino's Kill Bill: Vol. 2 (2004). She sports a precisely accurate portrayal as a young teen wise beyond her years, of which there seem to be fewer and fewer examples of.
However, it does feel a bit unbelievable that someone as well adjusted as Lauduree comes from those that are shown to have reared her. Her mom Tanya manages to avoid being a complete white trash stereotype with Ireland lending her a kind of feverish desperation, like the trailer park version of Shelley Winters in Lolita. Lili Taylor, still glowing, is perfect as the warmly receptive teacher, and her dynamic, including a well played conflict between teacher and student, feels authentic. And Future Weather at last gives Amy Madigan a meaty, savory role as Lauduree's grandmother. Deller's debut also looks and sounds great, with the admirable talents of Zak Mulligan (who won the cinematography award at Sundance 2010 for Obselidia) giving the film an undeniably professional and pristine quality that pegs Deller as a director to keep track of.