India Song: Park-wook's English Language is Stylized Creepy and Kooky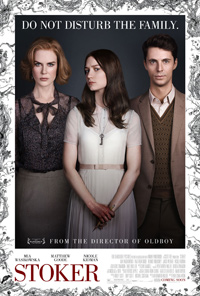 South Korean master Park Chan-wook returns with his English language debut, Stoker, a heavily stylized mystery thriller that's a grotesquely decorated façade with a heart as cold as ice. Based on a screenplay by actor Wentworth Miller (and contributing writer Erin Cressida Wilson), and featuring a dazzlingly assembled cast, there's a conglomeration of odd elements at hand here, creating a final product that feels as banal as it is strange, and as foreign as it is mainstream. Presenting itself as a densely constructed narrative, the film instead reveals itself to be a simple tale made more complicated by the way it's edited together. Operating mostly on its significant use of slow burn narrative and creepy details, it reaches a fast boil in its final frames, which may be too little and too late for most audiences. But one can't deny the broody elements of the film that come back to tease and haunt.
On her eighteenth birthday, India Stoker's (Mia Wasikowska) father Richard (Dermot Mulroney) dies in a terrible car accident, and she's left alone with her distant mother, Evie (Nicole Kidman). After his funeral, Richard's mysterious brother Charlie (Matthew Goode) appears, who only the housekeeper Mrs. McGarrick (Phyllis Somerville) uneasily seems to recognize. He ingratiates himself upon Evie and India, and seems to have a particular fascination with everything India does. A pale and precocious child that has a phobia of being touched, India seems alarmed and intrigued at the flirtatious interests of her uncle, and they both share a preternatural audio ability. On the other hand, Evie seems extremely warm to the advances of the handsome Charlie and barely notices when Mrs. McGarrick suddenly disappears, and doesn't seem suspicious when an unexpected visit from Aunt Gin (Jacki Weaver) also ends mysteriously. While India gets involved in a precarious relationship with Whip Taylor (Alden Ehrenreich), a boy at school, the mystery surrounding Charlie's dark past slowly start to surface.
Stoker owes most of its morbid beauty to the cinematography of Chung-hoon Chung, who regularly works with Park-wook. While their latest collaboration may feel less over-the-top than some of their flashier titles, like the insane visuals of Lady Vengeance (2005), it often has the tendency to feel overdressed for its own occasion. But even if by the time it wraps itself up, and it feels like no great mystery has been unearthed, the strengths of Stoker by far make up for any of its minor deficiencies.
Wasikowska is excellent as the quietly intense India and her interactions with the dashing Charlie are foreboding and creepy. Likewise, a predatory Nicole Kidman is excellent as India's distant mother, providing most of the film's slight comic relief with her bitchy behavior and the yearning sexual glances gracing her porcelain visage. Peppered with brief moments of blood and violence, spiders crawling between legs, an incestuous sexual bond laced with murder, multiple disappearances and hints of a deep rooted familial dysfunction, Park-wook's latest is the coming of age tale of a tantalizing and monstrous female.
Reviewed on January 20 at the 2013 Sundance Film Festival — PREMIERES Programme.
98 Min