No Man Could Be Their Equal: Prince-Bythewood Ponders Immortality with Graphic Novel Adaptation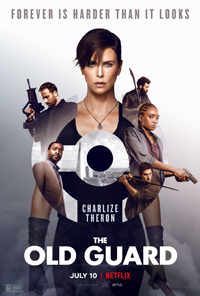 Director Gina Prince-Bythewood's fourth film is a marked departure from her previous work in film and television with The Old Guard, an adaptation of the graphic novel series illustrated by Leandro Fernandez and written by Greg Rucka, the latter penning the film's screenplay.
Prince Bythewood has been revered as one of a few successful Black women directors in Hollywood, ever since the success of her iconic debut Love and Basketball (2000), which she followed with the high-profile The Secret Life of Bees (2008) and the underrated Beyond the Lights (2014). Heretofore, she has formatted exceptional narratives balancing multiple characters reflecting segments of the Black American experience across a variety of backdrops, which may be why her latest, though featuring the kind of prominent diversity sorely lacking in the Marvel and DC multiverses, seems to pale in comparison for its somewhat familiar peaks and valleys.
Andy (Theron) is the head of a covert group of mercenaries who embark on mysterious missions around the world, recruited for their talents because they are immortal. While Andy, the eldest of the group, is not quite sure how either her or her team seem destined to live forever, it's a mystery which an insidious pharmaceutical company, run by Merrick (Harry Melling), is intent on solving, believing their DNA holds the key to allow for such gifts to be shared by all mankind. Employing ex-CIA agent Copley (Chiwetel Ejiofor) to lure Andy with a fake mission to rescue kidnapped schoolgirls in Iran leads the crew to vulnerability and exposure. At the same time, they discover another recruit in soldier Nile (KiKi Layne), whose vibrancy is necessary to defeat the powers threatening their existence.

Theron's prowess tends to dwarf both the narrative and her co-stars with her significant gravitational pull. No matter what time period or segue, she provides the significant gravity and star power to be able to earnestly convey chewy dialogue (like announcing herself as Andromache the Scythian) but she's sometimes a black hole when it comes to focusing on the energies of a hand-picked supporting cast of noted international acclaim.
Holding her own, for the most part, is relative newcomer KiKi Layne, also in a significant departure from notable performances in both If Beale Street Could Talk (2018) and Native Son (2019). Sans a somewhat poetic monologue delivered courtesy of a wasted Matthias Schoenaerts, remaining cast members wade through passages of Rucka's dialogue which makes this all sound like a super hero soap opera, despite the script's best intentions of positivity and inclusivity pertaining to queer characters, including a likeable Marwan Kenzari (fresh off playing the villainous Jafar in 2018's Aladdin) and Italy's Luca Marinelli (who nabbed Best Actor in Venice last year for his sublime turn in Martin Eden).
Unfortunately, the charismatic Chiwetel Ejiofor is about as vague as his character's allegiances, while Romania's Anamaria Marinca is once again cast in an unforgettable supporting role as a scientist on the wrong side of history. Harry Potter alum Harry Melling, meanwhile, performs the necessary functions of an incredibly unlikeable villain. Choreographed fight scenes featuring Theron specifically pale in comparison to sequences like Mad Max: Fury Road (2015) or Atomic Blonde (2017), which lends The Old Guard a rote, indifferent energy.
Shot by Barry Ackroyd (The Hurt Locker, 2008) and Tami Reiker (who worked with Prince-Bythewood on Beyond the Lights), the exotic continent-hopping locales aren't quite as memorable as one might hope, while flashbacks from centuries past involving Andy and her first sidekick (Van Veronica Ngo) tend to make The Old Guard feel like the pilot for an elaborate television series, an X-Men spin-off which plays a lot like if Anne Rice were to resurrect the Highlander franchise.
And what to make of Andromache the Scythian, a somewhat controversial reference to ancient nomadic peoples, originally of Iranian origin but a categorization used to describe, broadly, a wider group of Eurasian descendants. Upon a closer examination, Theron is arguably miscast in this sci-fi fantasy schlocker, at least if one were to consider a paramount literary reference to the ancient race, Alexander Blok's 1918 poem "The Scythians," a poem of revolution which pits the titular, Asian defined peoples against Old Europe's ideals.
★★/☆☆☆☆☆