76 Days Later: From the Frontlines of Wuhan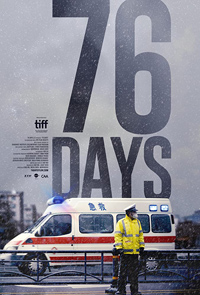 As one of the earliest documentaries to cover the Covid-19 epidemic in Wuhan, China, Hao Wu's 76 Days is lightning in a time capsule: Wu and his team risk it all to capture poignant human stories on the frontlines of the outbreak. Emotionally devastating, Wu's film is raw in both material and execution—and, more likely than not, it will break you. Amazingly, it also offers closure to one of the most fraught chapters in medical history by finding lasting slivers of hope amidst the wreckage … all while reminding us, collectively, that we aren't yet out of the woods. This film is an essential record of human lives given, saved and lost.
Hao Wu is no stranger to challenging topics: earlier achievements include All In My Family (2019), People's Republic of Desire (2018), plus a detention by the Chinese government because he dared make a film about underground Chinese churches (2006). He's also quick to mobilize; on January 23, 2020, when Wuhan, China—a city of 11 million people—went into lockdown, Wu enlisted co-directors Weixi Chen and the unnamed "Anonymous" to help him explore the experience. They do so with empathy.
Whereas Alex Gibney's pande-mentary Totally Under Control doles out evidence of administrative failures, 76 days rarely leaves the hospital, favoring compassion over politics and prioritizing personal battles. After opening with a gut-punch—a medical worker hysterical over the death of her father—Wu's film maintains tension throughout, delivering alternately heartwarming and heartbreaking moments in shards rather than continuous threads. Key characters help us track emotional arcs: a mother longs to reunite with her husband and meet her newborn baby; conscientious doctors and nurses play family when blood relatives can't be around; a touchingly appreciative patient won't stop thanking his doctor; a kooky old codger repeatedly tries to escape from the hospital against doctors' wishes.
76 Days is a symphony without faces. Characters are either masked, decked out in PPE or attached to ventilators, which makes it hard for audiences to distinguish who's who. The anonymity is balanced by subtitles—but what really defines each individual are their actions. Doctors and nurses draw cartoon faces on their PPE to keep spirits high; they lead patients to a window for a moment of sunlight; they preserve possessions of the deceased—a mother's bracelet, a cell phone with 31 unread messages—in order to share them with loved ones when the epidemic is over. "When it's over, when it's over," they all keep repeating: a grim piece of optimism when seen in hindsight.
Like Uncut Gems on steroids, 76 Days flaunts an effortless and deliberate intensity: individual narratives layer and build; characters constantly interrupt; urgency fills the soundtrack. Wu withholds any glimpse of the external world until midway through the film, when an aerial view offers both a literal and metaphorical breath of fresh air—but even so, in spite of the claustrophobic contagion, the film's heart wins out. 76 Days honors incalculable losses and anonymous heroes; it is also a conduit to much, much more. At the end of Wuhan's lockdown, when air raid sirens sound a cumulative wail of mourning for all those lives lost, this film feels incredibly cathartic: a post-war dirge, a cautionary tale, a reminder of our collective strength in the face of suffering … and convincing proof that no matter the tragedy, humanity will prevail.
★★★½/☆☆☆☆☆