Shipping Out: Johnson's Sophomore Effort Misses the Boat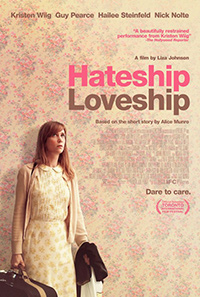 Director Liza Johnson follows up her 2011 directorial debut, Return, with Hateship Loveship, an adaptation of a short story by Alice Munro (whose works was also the basis for Sarah Polley's Away From Her, 2006). Johnson revisits favored motifs, a central female character struggling to fit into an assigned part she has no interest in playing, as well as high profile casting in throwaway supporting roles that similarly plague this outing. Despite a committed performance from Wiig, the film feels discombobulated, a Cinderella of the slums fairy tale tinged with minor classist woes that's nicely trimmed into all's-wells-that-ends well blandness.
With Johanna's (Kristen Wiig) last elderly ward recently deceased, she takes a new job in Iowa as the caretaker for motherless teen (and woefully named) Sabitha (Hailee Stanfield), who's being raised by her well-heeled grandpa (Nick Nolte). Sabitha's dad, Ken (Guy Pearce), is a recovering junkie living in Chicago, attempting to revitalize an old motel he's purchased. But Ken's relationship is rather strained with his daughter and father-in-law since he caused the death of his late wife in an alcohol related accident. Upon meeting the mild-mannered Johanna, Ken sends her a note to thank her for helping with his daughter. But Johanna's reply is intercepted by Sabitha and her jealously cruel school friend, Edith (Sami Gayle), who poses as Ken in correspondence with Johanna, playing on the simple woman's naiveté by making her think Ken wants to marry her. The prank runs it cruel course, which sees Johanna busing out to Chicago to find Ken shacked up with his junkie girlfriend (Jennifer Jason Leigh), while the drama back home goads grandpa into courting his friendly and extremely nosy bank teller (Christine Lahti).
In her continuing bid to branch out as a dramatic presence, Wiig's Johanna is certainly a better example of that than overcompensating, forced fare like groan worthy Girl Most Likely or The Secret Life of Walter Mitty (but stay tuned for The Skeleton Twins, a film worthy of her dramatic chops, due later this year). Dowdy and subdued, it's an introspective turn, and she manages to be believable as this terribly naive creature who thinks she's found her prince charming. It's another example of Wiig's ability to excel as a woman on the precipice of major life changes. But Mark Poirer's screenplay only conveys basic character sketches, forcing us to follow the development of Johanna but from a blank palette since we're given scant details about her and why she is how she is.
As was the case with Michael Shannon in Johnson's first film, Pearce, a wheezy/raspy Nolte, and the fantastic looking Christine Lahti don't get the chance to make a notable impression, while Jennifer Jason Leigh gives us more of her fringe, wild child/woman supporting characters. Stanfield, Oscar nominated for True Grit and wildly grating in several of her following turns (Romeo & Juliet; 3 Days to Kill) also manages to be appropriate, leaving Sami Gayle to shoulder all the dislike. Gayle, with glistening maw that appears recently bereft of some sort of corrective apparatus, is unlikeable in all the right ways, but she's used conveniently with lazy intentions.
Working class, even though her dress and demeanor would indicate otherwise, her untoward cruelty toward Joanna stems from the fear that she's not very far removed from her, both guests in the world of privilege. It's avenues like this that are left unexplored, leading the film into stagnant, still waters as we rush through romance, pregnancy, birth, graduation, and end credits with the conclusion that whether it be glass slipper or tattered tennis shoes, true romance amounts to little more than a hard mix of perseverance and downtrodden circumstance. Once again, decent performances are overshadowed by lackluster presentation.
★★/☆☆☆☆☆