Satirize This: Bilandic's Scruffy Send-up of NYC Art Scene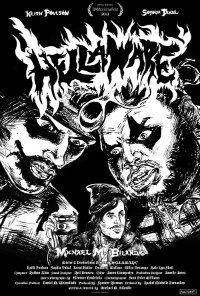 Though starting off on a stronger note than where it eventually ends up, Michael M. Bilandic's sophomore feature, Hellaware is an entertaining satire of the ultra-pretentious art scene in New York. Filled with sharp one liners and skewering observations of the self-important hipster scene, it's a group that's easy to target, which may explain why it eventually feels a bit inconsequential once it fosters its full circle treatment. But Bilandic's acerbic, hilarious wit is often more than enough to carry the narrative through a slim manifestation.
While at a ridiculous and utterly pretentious art gallery of what looks like a variety of depraved children's' paintings, jaded struggling artist Nate (Keith Poulson) miserably shares his critical hatred for such types with tagalong friends Bernadette (Sophia Takal) and Gauguin (Duane C. Wallace), apparently taking the name of the famed artist. But a coke fueled YouTube search proves fateful one day when Nate stumbles upon a track called "I'll Cut Yo Dick Off," by a teenage group calling themselves Young Torture Killers, apparently modeled after the group known as Insane Clown Posse. He's found his inspiring subject, and sets off outside of the comfort zone of Manhattan to "immerse himself in another culture" to visit the rural, Delaware based group. Invited to a 'concert,' Nate drags Bernadette along to what appears to be a musical gathering in the basement of the parents' house of the lead singer. After many drugs and much alcohol is consumed, Nate snaps a bunch of pictures, inevitably scoring his own gallery based on this crew of people deemed, "so violent, yet serene." Only, these are minors on probation and are none too happy to find that Nate has showcased their likeness without permission. Threatening to destroy the gallery, it's exactly the type of publicity that determines success in a world of vapid tongue wagging and self-indulgence.
Several notable indie faces pop up in Bilandic's debut, led by an amusing performance from Keith Poulson, who many may recognize from his turn in Somebody Up There Likes Me (2012) or a supporting role in this year's Listen Up Philip. While the nature of his personality change upon gaining a sliver of success isn't quite believable, it's a fair move in a film that's real attempt is to highlight the ridiculously pompous nature of artists more obsessed with the notion of fame and success rather than anything they actually create. As his sometimes friend with benefits, Sophia Takal is also entertaining, and she's included in the film's best comedic scenes, when, as already aged outsiders, they explore the shadowy mire of the angsty, drugged up rural adolescent, with a creative mindset not terribly unlike the struggling, hipster artist.
Bilandic fills his film with a bevy of affected monologues and pointedly obvious caricature, that sometimes work and sometimes overreaches (such as a curator's orgasmic rapture about a famed prostitute turned artist whose first novel, "The Shark's Flower" has become a seminal novel about creativity). Overall, Hellaware is obsequious to its own beat and tone, though its satirical powers don't extend beyond slightness.
★★½/☆☆☆☆☆