Reviews
2012 Hot Docs: Low & Clear | Review
Drifting Further Apart, But Forever Bound By The River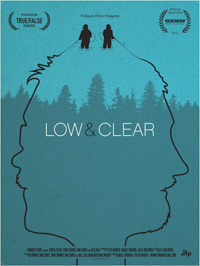 J.T. Van Zandt and Alex "Xenie" Hall used to be the best of friends, spending every second of free time knee deep in a creek, reeling in steelhead side by side. These days, they rarely see, or speak with one another. Co-directors Kahlil Hudson and Tyler Hughen follow these life-long friends on a trip to British Columbia to catch fish and rekindle their friendship, but within this buddy-fishing tale is a grand examination of different people's approaches to life through the angling style of these two men. With seemingly little effort, Low & Clear manages to avoid fishing clichés while beautifully depicting both nature and human relationships with wholesome respect, and narrative craftsmanship.
While working in a neighborhood bait shop, J.T. came to know the local legend known as Xenie, the man who photographed and cataloged every single one of his thousands of monster catches. For Xenie, the rejuvenating act of catching fish, no matter what the method, is the ultimate goal. When the two reunite for their trip, J.T. decides to make perfecting his cast his main objective, but after days of watching Xenie catch fish after fish while he practices his unsuccessful cast, tensions rise, and they both start to question not only their approach, but the very reasons they fish in the first place, and what it means to them as individuals. What at first seems like a non-fictionalized A River Runs Through It becomes an existential examination of friendship, and internal outlook captured on film with stunning cinematography.
Not unlike the work of Emmanuel Lubezki, Hudson and Hughen have obviously spent a massive amount of time intimately shooting the wilderness. As J.T. and Xenie stand in silence among the rock, rivers and trees, the directors spent plenty of time capturing moments of natural beauty that constantly surrounds them – the subtle ripple in the water as it flows over rock, the green overgrowth that hugs the riverbanks, or the birds that quietly patter overhead. Though it feels anything but slow, Low & Clear is a meditative documentary that gently seeps in like an ancient river slowly cutting deeper into the earth. Masterfully made, Hudson and Hughen have put together a wave making film on life, fishing, and friendship that deserves a flood of praise. You'd be a fool not to come wade in the water.