Satisfactory Endeavor: Evans' Latest Enjoyable Fluff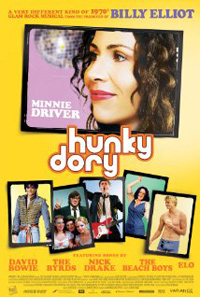 Welsh director Marc Evans explores 1970's rural Wales with his latest film, Hunky Dory, following his 2010 film Patagonia. While Evans is somewhat of a genre jumper, oscillating between thrillers like My Little Eye and Trauma to indie drama like 2006's Snowcake, his films don't quite seem to bear a directorial signature. His latest, which is a sort of coming of age story about a group of high school students staging an ambitious musical that, on one hand feels much more sincere than any number of similar American examples (yes, like Glee), lacks any sort of real depth. As its title implies, everything seems to be moving along quite alright, which perhaps is only evidence that Evans' film isn't trying to be anything more than it simply is, a kindhearted film about a friendly, progressive minded teacher helping kids explore emotions through art.
It's a sweltering summer in Swansea, Wales in 1976, and newly hired drama teacher Vivienne (Minnie Driver) is trying valiantly to stage a rock opera version of The Tempest using the music of David Bowie, Electric Light Orchestra, the Beatles, and a multitude of other popular period tracks. However, Vivienne is fighting against the rural conservatism of a staff that not only finds the arts useless but considers non-traditional musicals to be even more demeaning. It doesn't help that Vivienne tends to ignore standard teacher student boundaries which shows her sharing drinks, cigarettes, and foul language with several students. To top it off, while her students seem to appreciate her, they're far from motivated, with several of their own subplots obstructing the extensive rehearsal process. There's Davey (Aneurin Barnard), who struggles with his drunken dad and motherless home where his younger brother constantly runs away from, and he's in love with Stella (Danielle Branch), but she's more interested in dating multiple people. Then there's the troubled Kenny (Darren Evans) and the closeted Evan (Tosmos Harries). And so on, and so forth.
While Hunky Dory isn't exactly what dreams are made on, it's got a certain sense of charm, thanks perhaps to a surprisingly realistic performance from an effervescent Minnie Driver. Her character isn't given any kind of development, and we learn that she went to school to be a princess and when that didn't end up being what she wanted, she returned to her home town to teach and change some lives. But her earthbound Mary Poppins syndrome ends there, and we're thrown into a painstaking amount of scenes revolving solely around the rehearsal for The Tempest, though, truth be told, we see a lot more rehearsing of the lively musical numbers and very little of Shakespeare's word (except where monologues are convenient to situations concerning human nature, love, etc, as appropriate).
While Evans and screenwriter Laurence Coriat spin their web out of well worn clichés, they at least don't feel overdone, and the musical numbers maintain a sense of the magic that may very well be possibly attained by a group of inspired high school students. With most of Hunky Dory awash in an amber glow from Danish cinematographer Charlotte Bruus Christensen (who worked on Vinterberg's last two films), a finale that finally reveals a nicely orchestrated performance reveals Vivienne's cast in a dimly lit outdoor setting, coming off as something more along the lines of A Midsummer Night's Dream and closing gloriously on ELO's "It's a Living Thing."
Evans includes biographical information before the end credits as to what some of the main characters later achieve, but this all seems rather pedestrian considering the lack of depth granted most of them in the first place. And, they're fictional characters. However, one can't help but feel that the words of Caliban best express the essence of Hunky Dory as akin to the island setting of The Tempest, filled with "Sounds, and sweet airs, that gave delight, and hurt not."