Reviews
Janeane from Des Moines | Review
Looking the Part: Faux Docu Addresses Tea Party Politics with Everyday Issues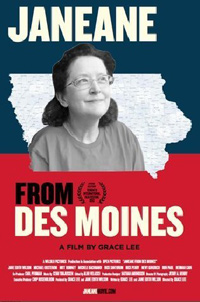 When it comes to the world of U.S politics, more specifically Republican Party candidacy, the state of Iowa could be considered the Hollywood in terms of star wattage. For the most part, all giving some of their career best performances, featuring the likes of Romney, Bachmann, Santorum, Perry and Gingrich, Grace Lee's Janeane from Des Moines hypothetically situates a pressing issue that no politician appears to have a basic answer for and does so with ingenuity, guerrilla-styled indie-budgeted smarts and a panache performance from co-writer/lead actress Jane Edith Wilson.
Working from a narrative that seamlessly includes hot button topics that not only create a divide between Democrats and Republicans but the conservatives from the moderates found in the Republican party, co-written by Lee and the film's protagonist, comparably similar to Frances McDormand's Fargo character – small person concerns caught up in larger than life proportions. Socially becoming an outcast due to her strong convictions, here we find a mother/wife/Tea Partier bent out of shape and while religion does play a significant role, Lee's principle interest here is about testing one's own faith in a failed system where the joblessness rate, failed family unit, personal bankruptcy, disdain for planned parenthood all weigh in on one person's personal life and 2012 candidate affiliation.
While some of the plotting feels strained, the daughter and husband storylines are weak and the parallels related to what this one family is enduring and how it is mimicked by what politicians are doing and saying comes across like weak juxtaposing you'd find in a slightly bad Sundance film, but the film's strength is what could be described as a nouveau performance art: creating a character, a back story and immersing the personage within real world context and it's unknowing participants. Lee quadruples down on such choice moments, and it authenticates the motions of the protagonist's journey and it is firmly planted in the film's open sequence where political hopeful and current Republican nominee for the Presentational Race meets the face of middle America under the guise of a fictional/non-fiction approach. At times aesthetically resembling Christopher Guest's Best in Show for how the players talk directly to the camera, and recalling Robert Drew's fly on the wall Primary, what truly impresses is Wilson's ability to remain in character – she is more convincing than when Michel Moore walked hospital corridors in an actual health care doc Sicko, or what Sacha Baron Cohen and Joaquin Phoenix recently attempted.
While at times the sharply titled Janeane from Des Moines feels like a one trick pony, there are several reasons why this could register with broader audiences – as disillusionment about political leaders and the current state of American families is very much a real subject no matter how it is portrayed or presented.