Down & Outback: Lost Australian Classic a Moody Nightmare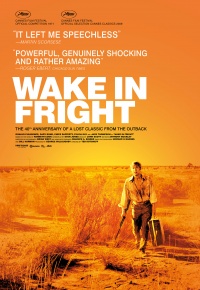 Long considered a lost classic, spurring a decade long search for the film's negative (which ended finally in 2004 when it was found in a box marked for destruction in Pittsburgh), Ted Kotcheff's Wake In Fright is getting a much deserved re-release after enjoying a recent spat of revitalized festival circuit glory. While the film's been listed among a selection of titles referred to as Ozploitation, thanks to the 2008 documentary Not Quite Hollywood, Kotcheff's film is more Ozploration than it is an exploitative mechanism. That's not to say it isn't without some sensational, notorious sequences, but clearly this is cinema that is more on par with contemporary auteurs that explored the Outback to more celebratory effect like Weir, Schepisi, and fellow Brit, Nicolas Roeg.
A bonded school teacher, John Grant (Gary Bond), stationed in Tiboondi, the nether regions of the Australian Outback, is all set to begin his summer vacation, with plans to join his distant lady love in Sydney. Stopping overnight in Bundanyabba (known as The Yabba to the locals), Grant takes a break from the sweltering heat at the local bar, where locals incessantly gamble at a seemingly innocent coin toss game. Here, Grant comes in contact with the overtly aggressive hospitality of the local populus, forced into conversation with the town sheriff, the amiably overbearing Jock Crawford (Chips Rafferty). Consuming an inordinate amount of booze, Crawford at last leaves Grant to his own devices. After a cryptic encounter with Doc Tydon (Donald Pleasance), a foreigner that's been stranded in the Yabba due to his alcoholism and penchant for gambling, Grant unwisely engages in the coin tossing game, quickly losing all of his money, which he needed to purchase his ticket to Sydney. Stranded, Grant suddenly is forced to depend on the kindness of strangers, the overtly masculine, rugged, drunken strangers that lead Grant into a depraved wilderness of drunken degradation and unwholesome mind games.
An exploration of life stifling mechanisms, both at work and at play (as Grant explains to Jock Crawford the ridiculously punishing education system for teachers), Wake In Fright rapidly establishes a frightening tone of nightmarish quality. The incessantly passive John Grant, as played by Peter O'Toole doppelganger stage star Gary Bond, immediately thrust into the sweaty sausage fest (where members perform karaoke to Rudolph the Red Nosed Reindeer) that is the hopping one stop night life for the Yabba men, is creepily interrupted by a teleprompter that brings the drinking festivities to a standstill and orders all the "ladies and gentlemen" of the establishment to salute and utter rote statements in memory of the country's fallen soldiers. The practice is announced as a reminder, "lest we forget," it warns, a red light telegram in the midst of the onerous, drunken pigsty. Only, there aren't any ladies in the bar, and the one female of note, Janette (Sylvia Kay), has a strange, psychosexual dynamic with all the men that are her father's friends, a drunken benefactor that takes Grant under his wing for a spell. As untoward as Janette's sexual proclivities are with the brawny brutes, it's the freaky strange she seekw with intellectual sop Doc Tydon that manages to be more offputting, thanks to another colorful weirdo from the incomparable Donald Pleasance.
There's basically no reprieve from fear and loathing here, and this all culminates into a show stopping and unforgettably disgusting sequence where Pleasance and drunken dummies Joe (Peter Whittle) and Dick (Jack Thompson) take their new friend on a kangaroo killing spree in the middle of the night. Blasting away at the stunned marsupials, Joe then boxes hand to hand with one of the mangier, aggressive animals before he cruelly slits its throat. Then, of course, Grant is taunted into doing the same thing to a wounded adolescent kangaroo. The film tells us at the end that some of this footage was from an actual kangaroo hunt, unedited for its shock value in an effort to display the disgusting reality of this "past time." It's a testament to the quality of the rest of the film that this portion doesn't overwhelm it entirely.
Kotcheff never reached auteur status, in the 80's responsible for mainstream fodder like First Blood (1982) and Weekend at Bernie's (1989). But with Wake In Fright, which was released the same year as Roeg's Walkabout, Kotcheff showed promise of something greater. Here he utilizes Brian West as a cinematographer (a man that would go on to work on several notable, but under the radar works in film and television, including a delightfully strange 1981 Edward Woodward starrer, The Appointment), who captures a dusty, sweaty Australia, equal parts friendly and terrifying. The film is also notable for two notable Australian stars known for their rugged personification of Aussie manhood, Chips Rafferty, in his last role, and Jack Thompson in his first feature. An unexpectedly effective warning of the dangers of boredom, booze, and gambling, Wake In Fright was thankfully salvaged and made available again for our consumption.