Reviews
Jimi: All is By My Side | Review
Before the Haze: Ridley's Nuanced Portrait Worthy of Legendary Subject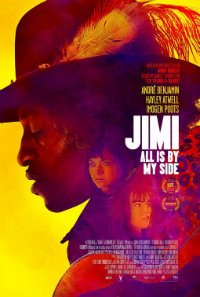 After a rather cool reception following high profile festival play at Toronto and SXSW, John Ridley's Jimi Hendrix biopic, Jimi: All is By My Side will be sure to garner a divisive response upon a theatrical release as well. Unable to acquire the rights to any of his music from the Hendrix estate, those looking for an audio celebration of the legend's greatest hits will surely be disappointed. Likewise, Ridley, who wrote the screenplay and won an Oscar for 2013 Best Picture Winner 12 Years a Slave, does something even more daring by covering a specific period in Hendrix's life, paring down the scope for what becomes a startlingly intimate glance at the man's demeanor and philosophies. While liberties have arguably been taken (Kathy Etchingham has quite vocally railed against the film), gripes considering the presentation of such a notable figure are inevitable. But without a doubt, Ridley and Andre Benjamin cast a transfixing concoction with this sparse portrayal of a musical genius.
Covering a year in the life of Jimi Hendrix (Benjamin), Ridley charts the musician's rise to fame during his move from New York to London in 1966 to 1967. A backup guitarist in New York's Cheetah Club, Hendrix grabs the attention of Linda Keith (Imogen Poots), then girlfriend of Rolling Stones' member Keith Richards. Keith attempts to snag Hendrix a notable manager, and after many failed attempts, introduces him to Chas Chandler of The Animals (Andrew Buckley), who is immediately drawn to Hendrix, vowing to take him to London. Once there, Hendrix leaves behind Poots to pursue a relationship with Kathy Etchingham (Haley Atwell), a union that descends into moments of abuse and violence. Navigating the London scene, Hendrix quickly makes a name for himself, impressing and outperforming a surly Eric Clapton (Danny McColgan) and impressing two members of The Beatles with a cover of Sgt. Pepper's Lonely Hearts Club Band. Ridley portrays Hendrix's life up to the precipice of Monterey Pop.
Though there's a glaring age disparity between Hendrix and Benjamin (the former died at age 27 and the latter is pushing 40), he generously captures the mellow aura of the musician, and is generally an engaging surprise to witness throughout. Benjamin's had a rather uneventful filmography, either floating around in silly comedies or more distinct supporting roles in genre fare from F. Gary Gray, John Singleton, and the non-event of Idlewild (2008). If anything, the film is proof of his onscreen presence in a role that should be remembered fondly.
Ridley focuses on Hendrix and his beliefs, exploring his relationship with several women in his life during the period rather than the music. This constraint proves to give the film a unique edge, avoiding the parade of the familiar that generally pervades music biopics. The standout here is Imogen Poots as Linda Keith, who wears her relationship with Keith Richards as a cross to bear. Profound and melancholy, she proves to have an intoxicating chemistry with Benjamin's Hendrix, their scenes some of the film's strongest assets. The period becomes Poots, here as equally persuasive as she is alongside Steve Coogan in The Look of Love. She disappears for a while, taken over by Haley Atwell's Etchingham, a less persuasively rendered performance. But then we're treated to Ruth Negga, who cuts a striking figure as Ida, a Milwaukee transplant that introduces Hendrix to the revolutionary Michael X (Adrian Lester). Smoking up with Michael X in his apartment, they spar over political ideologies.
Intelligently performed and with a slew of well written dialogues, Ridley has cobbled together an impressive and ambitiously realized project. Hank Corwin and Chris Gill's stylized editing feels as ingenious as it does a trick to distract us, while Tim Fleming's cinematography tries to splice actual period footage in order to spice up its period feel, which sometimes feels unnecessary. At the end of the day, All is By My Side is wholly worth it for the engaging and moving performances from Benjamin and Poots.
★★★/☆☆☆☆☆