Birds of a Feather: Camargo's Debut a Tepid Chekhovian Transplant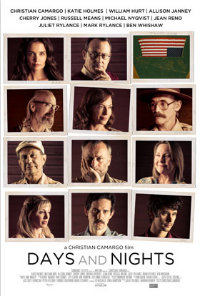 Contemporizing classic literature can be a tricky feat, though it more often than not seems unjustified. Actor Christian Camargo has reworked Anton Chekov's classic play The Seagull for his directorial debut, Days and Nights, curiously setting the Russian tragedy in 1984 New England. With an extremely lucrative cast at hand, Camargo's fiddling around with the text isn't completely bereft of ingenious new ways to converse with Chekov's classic, though more often than not, this is simply another tedious glimpse of familial dysfunction, relocated to the heart of a WASP's nest. While it isn't necessary to be familiar with the material Camargo is in correspondence with, one's awareness of it may impede rather than enhance this film, which often feels strained or confused upon comparison.
It's Memorial Day Weekend in 1984, and famous actress Elizabeth (Allison Janney) drags her younger, director boyfriend Peter (Christian Camargo) to join her family at the lake home. They're picked up from the station by the caretaker, Johan (Michael Nyqvist), who lives on the property with wife Mary (Cherry Jones), while their daughter Alex (Katie Holmes) also resides there in an unhappy union with her ornithologist husband, Stephen (Mark Rylance). Elizabeth's brother Herb (William Hurt) is seriously ill, which necessitates the presence of his doctor, Louis (Jean Reno). Meanwhile, Elizabeth's moody son Eric (Ben Whishaw) has been feverishly making an experimental film in his mother's honor, inspired by his muse and secret crush, Eva (Juliet Rylance), a quietly beautiful neighbor from downstream. However, the reaction to his work is severely dismissive, catalyzing a series of rifts between the remaining guests that weekend.
Camargo casts himself as Peter, here the creative voice as a film director, replacing the noted writer Trigorin in the original play. The romance and flirtation with the Nina character, here replaced with the loaded moniker of Eva, is played by Camargo's wife Juliet Rylance, daughter of famed actor Mark Rylance, also appearing in the cast. The Eva/Nina character is a difficult figure to care for, and Rylance isn't quite up to the task of playing the inspiring ingénue. Meanwhile, a host of other cast members aren't allowed to make any kind of impression at all, a surprise considering the likes of Jean Reno and Cherry Jones blend obsequiously into the woodwork. Others give rather bizarre, over-the-top turns like Michael Nyqvist, and particularly William Hurt as the dying brother, at one point slapping on a wig in a scripted moment of delirious silliness, or worse, dancing uncomfortably to Supertramp in one of the film's diegetic references of period insistence (like Janney's reference to Meryl Steep in Silkwood).
Ben Whishaw and Katie Holmes manage to remain believably arresting, though Holmes' character is married to Mark Rylance's ornithologist, which results in a series of pointed textual references setting up Camargo's 'original' stamp of replacing the seagull with a murdered bald eagle. But the representation of the seagull from Chekov, a simple creature of sheer beauty killed out of one troubled young man's boredom, gets revamped ridiculously with the American heirloom, a national symbol, no less. Days and Nights isn't quite able to navigate the repercussions, and how that may mutate its source's intentions.
Snippets of narration or voiceover from various characters occur throughout, starting with Camargo's Peter, though this feels like filler. Updating Chekov is no small feat, but this trick with The Seagull has already been done and to much better effect by Claude Miller in 2003 with La Petite Lili, which starred a ferocious Nicole Garcia and lovely young Ludivine Sagnier as the youthful Nina. At least here we get a vibrant Allison Janney in all her vituperative glory, the only cast member not under-utilized. Again, to riff on another iconic Russian's famous opening line concerning all happy families and how they're all the same, we've come to an age where the exact opposite is also true, and Days and Nights is exactly that—more of the same.
★★/☆☆☆☆☆