Wild Mountain Thyme [Video Review]
Birds & Bees: Shanley Returns with Shopworn Romance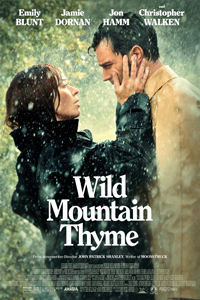 Director John Patrick Shanley returns with his third feature Wild Mountain Thyme, based on his own 2014 Broadway play Outside Mullingar. An old-fashioned outfit tinged with the kind of weirdness displayed in his own directorial debut Joe Versus the Volcano (1990), this rural romance set in the Republic of Ireland leaves much to be desired thanks to questionable casting and some off-putting accent work which tends to grate and distract, but it's not for lack of trying as regards its leads Emily Blunt and Jamie Dornan.
What perhaps worked best on stage as far as suspension of disbelief sails directly into archaic and leaden narrative tactics and unfortunately can't create enough authenticity to allow an audience to settle into a simple mutating into something increasingly strange.
The Reillys and the Muldoons have existed on neighboring farmlands for more than a generation, with the population around them slowly drying up. Rosemary Muldoon (Emily Blunt), charged with caring for her ailing mother (Dearbhla Molloy), is in love with Anthony Reilly (Jamie Dornan), a peculiarity in the community who everyone believes has inherited his mother's dreaded Kelly Curse. Tony (Christopher Walken) doesn't believe his son has what it takes to run the farm, and now in his twilight hour, announces his plans to sell the land to his wealthy American nephew Adam (Jon Hamm). This throws Anthony into a tailspin and at last allows Rosemary a chance to court the young man before it's too late.

Shanley is still well regarded for his 1987 script for Moonstruck, which won him an Academy Award. His pronounced patterns of highlighting even of the sparest of characters with idiosyncrasy remains intact, albeit with less success in Wild Mountain Thyme. It's already been over a decade since Shanley was last behind the camera with the lauded 2008 title Doubt, material which suggested a much different and equally sublime tone from the playwright.
In retrospect, the glow of his last film positions his directorial comeback as even more of a disappointment. But it perhaps explains some of the notable cast members. While Jamie Dornan (and returning member of the stage play Dearbhla Molloy) seem most believably cast, it's really Emily Blunt who's assigned the heavy lifting, and she's often charming. Like the supernatural inclined weather patterns which cement her tortured courtship, Rosemary Muldoon's sequences tend to feel like a gusty reprieve for those who can settle into the accent work. Eventually, Shanley's strangeness sets into hyperdrive once Anthony reveals the secret of his personal malcontent, meant as a match for Rosemary's own aviary beliefs born from Tchaikovsky's Swan Lake.
The auditory soreness courtesy of Walken's halting take on an Irish accent is perhaps the worst formulation on the dialect since Marlon Brando's turn in Michael Winner's The Nightcomers (1971), and the lack of attenuation for the wealthy American cousin played by Jon Hamm, shackled into an alternate romance of convenience, doesn't help matters. Although not as poorly calibrated as something like the Amy Adams rom com Leap Year (2009) since Shanley's prose isn't without a certain degree of poetics ("I'm half dying for loving you," broods Rosemary) at least suggesting the poignancy of the material, it's ultimately a hackneyed perspective of rural Ireland, populated with characterizations by actors who couldn't possibly succeed at portraying farmers (and for a majority of them, Irish people).
★★/☆☆☆☆☆