Shared Tendencies: McGowan's Debut an Understated Navigation of Character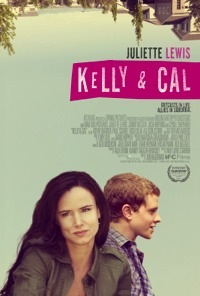 While she's not treading uncharted territories with her directorial debut, Kelly & Cal, Jen McGowan manages to create a believable portrayal of two outcasts coming together under rather socially inappropriate circumstances. Though the eponymous relationship portrayed is a bit too one-sided to warrant the title and isn't exactly imbued with the dramatic heft of something like, say, Harold and Maude (1971), it's a generally pleasing independent film that quietly and tenderly renders its central relationship as an examination of those increasingly rare connections we experience with like-minded individuals as life goes on.
Recently giving birth to her first child, Kelly (Juliette Lewis) finds herself in a slump. While not exactly suffering from post-partum depression, she's unhappy to find her life turn into a stagnant cliché. Once a rebellious punk rocker with musical aspirations, her husband Josh's (Josh Hopkins) profession in advertising has led them to the suburbs, and she finds herself isolated, a stranger in a strange land and not too keen on motherhood, so far. It doesn't help that Kelly's sister Julie (Lucy Owen) and overly attentive mother-in-law Bev (Cybill Shepherd) keep pointing out that something is wrong with her, insistently visiting every day to goad her into a more positive direction. But it's a chance meeting with her fifteen year old neighbor, Cal (Jonny Weston), suffering from paraplegia after a fatal accident, that really provides Kelly with a lifeline. Exhibiting a similar sensibility, the handsome young man makes her feel desired and attention worthy, even though she knows that their flirtation is borderline inappropriate. Her attention also has a positive effect, at first, on the withdrawn Cal, whose friends have left him behind, unable to deal with his new disability.
The winning chemistry between Lewis and Weston goes a long way toward assuaging some of the more noticeable developmental issues with the film. We never really get to know much of Cal beyond his current disability, though we're able to glean a little bit about him from limited interaction with his mother, the regularly dependable Margaret Colin.
This is really a great little vehicle for Juliette Lewis, increasingly basted into supporting roles that don't do her justice. She's appropriately melancholic as the distressed Kelly, unsure if motherhood is exactly what she wants, only knowing she has no desire to adopt the chirpy persona that mother-in-law Cybill Shepard and sister Lucy Owen have perfected. We're told she's a rocker chick, having recorded some music with her 90s girl band, and we get a sampling of it. Yet, it is almost presented as an erroneous detail. Sure, she dyes her hair blue, something Kelly doesn't seem quite committed to, either. As presented by the script, she's clearly a woman that feels uncomfortable in her cookie cutter life as a suburban housewife, yet she's never shown to have much of a rebellious streak, at least a believable enough of one to warrant the tangent.
But despite these hiccups with development, which also includes a truncated moment of melodrama at an art show in the third act, Kelly & Cal gingerly casts an engaging spell concerning its unhappy female protagonist, even if her tale of reluctant motherhood butting heads with culturally appropriate notions of it is familiarly ingrained.
★★★/☆☆☆☆☆