Reviews
This is Where I Leave You | Review
This is Where I Judge You: In the Great Well of Family Drama, Levy Is Dry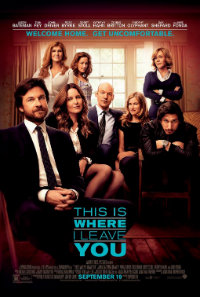 Based on the acclaimed novel by Jonathan Tropper, who adapts his own screenplay, This Is Where I Leave You hardly lives up to the Sirkian soap as its delightfully sappy title would lead you to predict. Tropper, with the aid of mainstream heavy Shawn Levy (who sports a resume that includes those Night at the Museum films and Real Steel), has managed to give us a film that feels like the Grand Hotel of family reunion dramas. A nest of WASPs wades around under the disguise of their mixed Jewish ancestry to gimmicky effect in a drama about a large number of otherwise privileged people chronically unhappy with their inability to transcend their conditioning and seek fulfillment from a fabricated, pedestrian lifestyle. Levy and Tropper aim for middle ground with a portrait of familial dysfunction that tries too hard to be relatable to as wide an audience as possible, sacrificing any real sense of complicated drama to easily resolved banalities.
Judd Altman (Jason Bateman) is having a bad week. He's just discovered his boss, famed radio personality Wade Beaufort (Dax Shepard) in bed with his wife, Quinn (Abigail Spencer). Not long after that blow, his sister Wendy (Tina Fey) calls to inform him that their ailing father has passed away sooner than expected. The Altman clan's mother, Hayley (Jane Fonda) insists that her children adhere to their father's last wish, to honor the Jewish tradition of Shiva, a weeklong mourning period where first degree relatives of the deceased gather for seven days and not leave the house. So Judd, along with his other brothers, Paul (Corey Stoll) and Phillip (Adam Driver) head home, each bringing dramatic baggage in tow.
Paul and his wife Alice (Kathryn Hahn) seem unable to conceive while Phillip's rich, older girlfriend (Connie Britton) doesn't seem to be able to quite hang on to the young ladies' man. Wendy is in a loveless marriage and pines for the man of her dreams who still lives across the street (Timothy Olyphant), a large scar on his forehead indicating a mysterious head injury cut his potential short. Meanwhile, mom has a few secrets of her own she'd like to share as the family gets reacquainted.
The casting is a real sticky spot in This Is Where I Live You, which pits too many well-known personalities against one another, thus making the film feel like a competition for who can grab either the most laughs or teary pathos. None of the four siblings looks remotely alike, not to mention a lack of shared resemblance with the surviving matriarch. At the head of the family is the still radiant Jane Fonda, delivering one social faux pas after another for cheap belly laughs, oversharing to the point of ridiculousness, which turns her into the rather unappealing butt of a tired joke.
To think that this is the cinematic icon that totes two Oscars behind her name here reduced to a geriatric breast plate with a silly secret revealed all too conveniently, seems not only demeaning but terribly trite. Which brings us to the catalyst for the entire film, the last wish of an atheist patriarch who, without any rational explanation, wants his family to engage in an archaic tradition of a religion he didn't even indoctrinate his children with. How his children can't see through the ruse but we can is a constant distraction.
Nearly all of the comedic talents feel utterly forced, including the generally unstoppable Adam Driver, here an annoying mass of youngest family member clichés. Levy once again wastes Tina Fey (she starred in his 2010 film, Date Night), here given a stilted romance with Timothy Olyphant, her high school sweetheart with a brain injury that forces him to live with his mother and occasionally forget what he's doing. Corey Stoll, Kathryn Hahn, Dax Shepard, Connie Britton, and even Rose Byrne are all glossy, disingenuous composites. The only cast member that seems to know how to twist the material to his advantage is Jason Bateman, a man who excels at acerbic wit, the usual straight man in a sea of dysfunction or chaos. Except that all this damned chaos seems crushingly heavy-handed and manufactured.
It's embarrassing to watch Tina Fey in several throes of forced tears or watch Hahn throw a tantrum when another woman's pregnancy is referenced at the breakfast table. Every single resolution in the film has already been heralded ahead of time, so that when it finally happens we're meant to have a sense of euphoric connection with the character as they grow and learn. And so we're led to the underlying and inescapable problem of This Is Where I Leave You, which offensively assumes that its audience will be too daft to understand what its saying. But all that Levy leaves us with is the cold, hard fact that it is death, and not music, which makes the bourgeoisie come together.
Reviewed on September 7th at the 2014 Toronto International Film Festival – Gala Presentations Programme 103 Minutes
★★/☆☆☆☆☆