Reviews
Kill the Messenger | Review
Crack is Whack: Cuesta Revisits Contras Affair as Political Thriller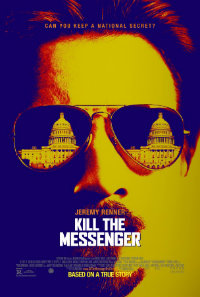 Though he has several films under his belt, director Michael Cuesta has probably made more of an impression in television over the past decade, though that may change with the reception of his latest, Kill the Messenger, a smartly layered tale based on a media minefield from the mid 1990s. Presented as a mixture of journalistic woe and political conspiracy, a brightly scrubbed cast and a tightly wound pace manage to make the best use of its running time, even though the material could have afforded to take more time to justifiably mine the depths of its implications. But, based on two books, one of them by the deceased journalist at the center of the tale, Cuesta stays true to a specific point of view to concoct an unnerving exploration of a matter swept too conveniently under the rug.
Gary Webb (Jeremy Renner), a reporter for the San Jose Mercury news in the mid 1990s, has recently relocated his wife (Rosemarie DeWitt) and children to California from the Midwest for a fresh start after a personal scandal proved to be too much to handle. Respected and outspoken, Webb is portrayed as something of a rebel, though his editor (Mary Elizabeth Winstead), and her boss, Jerry Ceppos (Oliver Platt) seem to have a reign on him.
Investigating the government's usurping of property from those arrested for drug trafficking even if they aren't eventually convicted, Webb's world changes drastically when a trafficker's girlfriend (Paz Vega) hands him a Grand Jury transcript that reveals a link between the CIA and cocaine smuggling into Los Angeles, a conspiracy that runs even deeper because the drug sales were to be used to fund the Nicaraguan Contra militias as dictated under the 80s Reagan administration, which was a conflict Congress had refused to fund. Of course, this would eventually result in a virtual crack epidemic in the black community. But after publishing his landmark story, Webb's career is derailed in a vicious backlash.
Kill the Messenger will most likely be Cuesta's most notable film effort since his 2001 debut, L.I.E. However, it's also a reunion of the director and star Jeremy Renner, who headlined Cuesta's dismally underrated sophomore effort, 12 and Holding (2005). Since Renner's breakout role in The Hurt Locker (2009), he's been milling around in a variety of high profile films, but Messenger is one of his best performances in quite some time, his portrayal of Gary Webb a fully fleshed out characterization of an impatient, goal oriented family man with a fair share of mistakes hanging over his head. But it's the thread that Webb catches hold of that's most terrifying of all, not only with what he's able to reveal about the nefarious dealings of governmental agencies that many have been brainwashed to trust, but worse, how the very platform Webb is able to use as weapon crumbles underneath him. His passion has blinded him to the fact that those in his profession often care less for the truth than sensational headlines.
Though it's nearly two hours long, Kill the Messenger still feels like it is cutting corners, leaving us with the biting commentary that when the whole debacle was revisited, it was drowned out over the media coverage devoted to the Bill Clinton/Monica Lewinsky scandal. Cuesta literally stuffs his films with a cavalcade of notable names, too many to necessarily list, though there are a few standouts, including Michael K. Williams and Rosemarie DeWitt. Andy Garcia seems to be utilized primarily as a grizzled old criminal these days, his stint here similar to recent credits like Let's Be Cops and Rob the Mob. Perhaps the most entertaining supporting member is an over-the-top Paz Vega, vamping through her scenes like some 1940s femme fatale.
Avoiding the trap of a procedural, Cuesta's film feels very much like an intimate character drama spliced with its overarching message concerning easily manipulated media frenzies and the undiscussed corruption going on within our governmental agencies. What happened to Gary Webb was tragic and the repercussions profound—he would eventually commit suicide in 2004. But whatever flaws or failings could potentially be used to critique his reporting shouldn't have overshadowed his explosive findings. If Cuesta is righting a wrong here with Kill the Messenger, perhaps it's a move in the right direction.
★★★/☆☆☆☆☆