How to Get Ahead in Miming: Harris' Recycles the Sociopathic Entrepreneur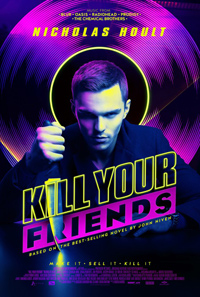 Owen Harris dips out of television for feature debut Kill Your Friends, an adaptation of John Niven's novel, something which probably reads like the British version of Bret Easton Ellis' dire nihilism since the central character is comparable to those infamous Bateman brothers. A violently inclined, drug fueled satire of a particular period in the late 90's British music industry prior to a dire mutation in product consumption, the film borrows notes and tones from a variety of more consequential materials showcasing self-serving, sociopathic climbers such as the protagonist played so malevolently here by Nicholas Hoult.
The year is 1997, and A&R man Steven Stelfox finds himself scrabbling for notoriety at a flagging British record label. Disdainful of his weak willed superiors, and determined to manipulate and undermine his peers to work his way up the company's hierarchy, his nights are filled with coke-binging and promiscuity as he professes an aversion for the very product he's supposed to celebrate. Steven's passion is instead reserved for making money and his desire to assume the head of Unigram Records, a plot he sets into motion by ruthlessly murdering his sad-sack colleague Roger (an unusually baleful James Corden) after the company's head of legal affairs (Joseph Mawle) convinces Steven his designs are possible. But his actions result in Steven being blackmailed by his own cutthroat secretary (Georgia King), who figures out Roger's fate, and the lead inspector (Edward Hogg), who seems willing to overlook inconsistencies in Steven's official police statement in order to secure a publishing contract.
We've seen countless numbers of emotionally schizophrenic men and their maniacal aspirations, and this item does little to surprise. However, there is an untoward bitter aftertaste to everything in Kill Your Friends, so it's no surprise to learn author John Niven was once an A&R executive. Clearly, this has been specifically crafted to highlight the disgusting underbelly of a once lucrative industry during the final throes of its heyday, highlighting how the manufacturing of an artist has little to do with actual talent. When Hoult's glowering madman isn't engaged in protecting his assets, the film is filled with putrid, misogynistic asides, such as an over-the-top sequence featuring Rosanna Arquette bemoaning the industry's ageism. More often than not, Harris' film is at its most entertaining when dealing with Unigram's various musical acts, including a Spice Girls inspired group of women who can neither sing nor dance, a diva musician (Osy Ikhile) diving into an unwanted experimental new direction, and best of all, Moritz Bleibtreu as an excessively inclined German dance producer with a tasteless new electro-dance track he's trying to peddle off as a single.
Often, Steven's inner monologues provides the best bits of dark humor, but Kill Your Friends never registers as more than a garish rip-off of more astute depictions of monstrous, uncontrolled male egos. The film's tone ranges from the mawkishness of Judd Apatow's industry oriented working environment in Trainwreck to the drug infused buffet of Scorsese's The Wolf of Wall Street. And if American Psycho remains a prominent point of comparison throughout, so does Jon S. Baird's 2013 film Filth (an adaptation of a novel from Trainspotting scribe Irvine Welsh). And thus, Harris' is overly dependent on the morose omniscient narration of his delectably evil protagonist, and a procession of neon lit hedonistic club scenes too often seem like serviceable B roll footage from some more exciting scenario.
An array of familiar faces (Craig Roberts, James Corden, and Georgia King) fall on pronounced extremes of conniving or spineless, but nothing marks the film as provocative, neither as a nihilistic statement on blind consumerism nor as a portrait of an industry drunkenly breastfed on a toxic stream of 'turn down for what' attitudes.
★★/☆☆☆☆☆