Friedkin Back with A Vengeance: A delicious, glossy throwback to the daring exploitative themes of the 1970s.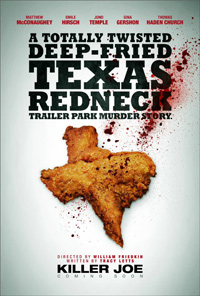 Incest, murderous rednecks, and a bucket of chicken you're not apt to forget, are all part of the window dressing in Killer Joe, the hilariously dark new film from William Friedkin. Reteaming with Pulitzer prize-winning playwright Tracy Letts after they collaborated on bringing Bug (2006) to the big screen, the pair's latest offering plays like Lillian Hellman on acid. Set in greater American redneck country (Texas), this ferocious thriller shows blood to be no thicker than water and once again proves that Friedkin is a cinematic master.
Emile Hirsch stars as Chris, a down and out redneck that owes $6,000 in drug and gambling debts. Something of dimwitted loser and without a dime to his name, Chris barges into his father's (Thomas Hayden Church) trailer house one rainy night with a plot to hire a crooked cop by the name of Killer Joe (McConaughey) to kill his mother for her $50,000 insurance money. Equally as dim, his father reluctantly agrees to go along with the plan as Chris happens to know that the beneficiary is Dottie (Juno Temple), his younger sister. And add to the mix Chris's pizza parlor stepmom, Sharla (an excellent Gina Gershon), a woman who disdains Chris but demands a fourth of the money. Upon learning that he will not be getting paid up front, Killer Joe demands Dottie as a retainer for his services and it's revealed that Chris may hold more than just a familial affection for his sweet, simple, virginal sister. Of course, with people as boneheaded as these, there's bound to be some twists and turns in this vicious little redneck noir.
With hints of Toys In the Attic (1963) Southern dysfunction and a beautiful parallel to the likes of Baby Doll (1956), Friedkin's latest glints across the screen with a delicious absurdity. As the narrative tension becomes amplified, the film becomes doubly uncomfortable, which will either have you laughing or covering your eyes for one doozy of climactic last half. Surprisingly, McConaughey's performance is quite good here and the rest of cast, including Hirsch, Temple, and Church, all have their best moments in their scenes with him. However, the bravest performance goes to the extremely underrated Gershon, who should be getting standing ovations for what may be one of the most disgusting misogynistic non-rape scenes ever committed to celluloid. Whatever your reaction may be to Killer Joe, it's a guarantee that you will not forget its grand finale. A dark, twisted, glorious throwback to delirious exploitation cinema in vogue at Friedkin's peak in the 1970s, this is one of the most enjoyable, provoking and hilarious films you'll see this year.
Reviewed on September 13 at the 2011 Toronto Int. Film Festival – SPECIAL PRESENTATIONS Programme.
103 Mins.