The Nightmare During Christmas: Doughtery's Cutesy Morality Play on the Christmas Spirit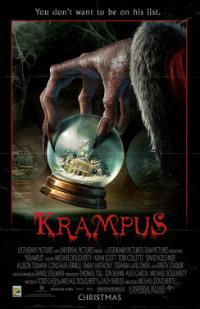 Exploring the adverse aspects of Christmas, one of the most cherished holidays around the globe, is nothing new in cinema. Irate Christians were nonplussed about Bob Clark's 1974 serial killer flick Black Christmas and its 2006 remake, claiming it compromised the spirit of their cherished holiday. And there are all those nagging, sordid details about good ole St. Nick's bad side, conscientiously whittled away throughout centuries of increasingly honed capitalistic tendencies as regards the holiday. Several recent films have resurrected ideas about Santa's nastier habits and what he does to the children that are actually naughty, like Dutch filmmaker Dick Maas' Saint (2010) or Jalmari Helander's inspired Rare Exports: A Christmas Tale (2010) from Finland. Genre director Michael Doughtery makes a memorable entry in this growing subgenre with Krampus, a creative though utterly declawed venture which plays like the blunted version of a 1980s Stephen King short story mixed into Joe Dante's Gremlins (1984). Following his 2007 debut, the inspired anthology Trick r' Treat, which won considerable notices following its direct-to-DVD showing, Doughtery proves to have an appealing eye for revamping forgotten genre flourishes.
After fighting another student in his Nativity play, preadolescent Max (Emjay Anthony) realizes he's in for a lousy Christmas. Mom (Toni Colette) and Dad (Adam Scott) don't seem to be as connected as they used to, while older sister Beth (Stefania LaVie Owen) is more interested in her boyfriend than hanging with her kid brother. Worse, his onerous Uncle Howard (David Koechner) and Aunt Linda (Allison Tolman) are about to arrive with their four wayward children and abrasive great Aunt Dorothy (Conchata Ferrell) to spend the holidays in his home. Thankfully, his grandma Omi (Krista Stadler) is there to provide him support, the only person who fosters his continued belief in Santa Claus. But when the relatives show up and Max is shamed at the dinner table, he curses his antagonistic family for ruining Christmas. But Max's wish awakens a dark spirit named Krampus, a being prone to paying deadly visits to those who have lost all hope.
Doughtery invokes the cinematic spirit of Dickens by showcasing a clip from a 1951 British film version featuring the rather eerie looking Alastair Sim as Ebenezer Scrooge, a defining icon of spoiling the Christmas spirit. The notion of 'spoiling' is rendered in other, subversive ways in Krampus, as indicated by the slow motion opening montage of holiday shoppers violently and aggressively stomping each other out to nab the best holiday deals on Black Friday, an achingly archaic tradition which tends to supersede the meaning of Christmas in more privileged climes. Doughtery may as well have titled his film Black Santa, considering the titular entity here is described as an older, darker being than St. Nick, an actual shadow of the goodly saint.
But Krampus is hobbled by its limiting PG-13 rating, and Doughtery would have had a much more deadly, gleeful time with the loosened reigns of an R rating. As such, it often seems like Doughtery's script, co-written by Todd Casey and Zach Shields, was forced to adapt, forced to carefully choose its sole use of the F word, which means lessening the effect of some showdowns featuring Allison Tolman and David Koechner. But there are also some unforgiveable generalities. Character actress Conchata Ferrell provides the caustic comic relief, but several bits of dialogue seem cliché— how many times has someone made a comment about Martha Stewart throwing up over a nicely dressed dinner table in a dining room? Austrian actress Krista Stadler is a nice touch as a grandmother from the old country, who, of course, reveals the necessary exposition to explain the demon Santa, but she's also woefully underplayed, like an engine you'd like to hear purr but only manages to intermittently hiss.
Toni Collette and Adam Scott provide solid support, though the emotional undercurrents are sometimes underwhelming because we never got to spend much time with their characters prior to their irritated states (and Scott is playing another one of those quiet types forced to prove his resilient masculinity which has been lying dormant all along, not unlike a similar turn in Aja's Piranha 3D, 2010).
The special effects team should be credited for some inspired visuals, including a snaky jack-in-the-box that should give children the kind of nightmares Pennywise the Clown inspired. And Krampus himself, once he rears his horned head, is spooky enough to keep us interested through the finale. Though Doughtery attempts to sidestep predictability, and does sail his narrative into a meaningful message about the sacrifice of giving and appreciating our loved ones, its final moments are still a bit derivative—at least for anyone who's seen Men in Black (1997).
★★½/☆☆☆☆☆