The Throne of Loneliness: Kaurismaki Cartoons Christina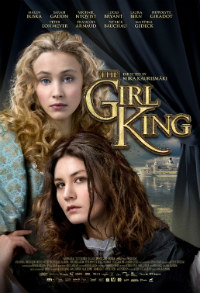 Considering it's been forty years since her last notable on screen incarnation, the time has come for a new biopic on that other famous 'virgin' queen, Christina of Sweden. Iconically portrayed by Great Garbo in 1933's Queen Christina, and then again in 1974 by Liv Ullmann in The Abdication, these are significant footsteps to follow, especially considering these productions are best remembered for their female leads and not their directors (Rouben Mamoulian and Anthony Harvey, respectively). Finnish director Mika Kaurismaki, the brother to world renowned auteur Aki Kaurismaki, aims to resuscitate her provocative legacy with The Girl King, though its use of archaic language concepts (such as 'girl' and 'virgin') hint at a certain ignorance of both femininity and lesbianism despite a screenplay penned by Michel Marc Brousard (Lilies; Tom at the Farm). A handsome costume drama, this international co-production is more often distracting than relevant, and seems a missed opportunity considering all the incredibly bizarre details surrounding the short reign of Christina Augusta.
At the age of eighteen in the year 1844, Christina Augusta (Malin Buska) would ascend the throne of Sweden, the sole heir to her deceased father's kingdom. She'd been officially crowned at five years old, but remained under her mother's (Martina Gedeck) care until coming of age. A headstrong personality, raised and educated by the affable Chancellor Oxensteima (Michael Nyqvist), the young woman is groomed to question and command. Immediately after taking control, she causes upset by declaring a need for peace, a sore subject considering it was the Thirty Years' War between Catholic and Protestant countries which had expanded the Swedish empire under her father's rule. She develops an affinity for Rene Descartes (Patrick Bauchau), and controversially invites him to the kingdom as her personal advisor. Avoiding her many male suitors, including an eager cousin (Francois Arnaud), she falls into a passionate, illicit romance with Countess Ebba Sparre (Sarah Gadon). Rumors of their relationship infiltrate the court, compromising Christina's control.
Swedish newcomer Malin Buska does succeed in concocting a notable calling card for herself, and she did take home a Best Actress accolade following the film's premiere at the 2015 Montreal World Film Festival. But her fiery performance isn't matched by the sometimes awkward screenplay, which zooms through her troubled childhood in an opening chainsaw montage of jagged detail. She shouts and snarls magnificently, but isn't given much depth. One wonders if we'll ever get to see a Christina who is not only Swedish but is also allowed to primarily speak her native tongue. Garbo and Ullmann both showcased English language features, and Kaurismaki's internationally co-produced film conveys its melting pot of funding with a bevy of distracting German, Canadian, and French notables, all speaking accented English.
As her adoptive father figure, the Chancellor Oxensteima, Michael Nyqvist manages to sidestep some of these distractions, as well as Finnish actress Laura Birn (looking a bit like Margit Carstensen here) as a pained handmaiden. Dueling Canadian love interests Sarah Gadon and Francois Arnaud both have pretty faces to look at, but aren't rendered effectively, a particular demerit considering the central love story between Christina and the Countess. One wonders, if we're continually forced into English language production, what a more peculiar director prone to certain stylizations might have done with this relationship, such as a Peter Strickland.
The film's most energetic sequence is late staged verbal spat between Christina and her mentally unhinged mother, played quite memorably by Martina Gedeck (one wonders if their relationship might not be the more sensational), a woman who had kept the rotting corpse of her husband in the castle, forcing her young daughter to kiss it daily. Most of Christina's other feats, including her attempts at modernization and manipulative moves towards peaceful negotiations with neighboring countries, are relayed without much fervor, again subdued by something more surreal like her obsession with French philosopher Rene Descartes, who has compelling theories on sublimating desire and the notion of the soul as a mechanism tied up in our own pineal gland. The controversy over her attraction to Catholicism amidst the rampant Lutheranism of Sweden is conveyed with a certain generality when it's something that should have the weight attached to better biopics on England's Queen Elizabeth the I and Protestant/Catholic conflicts.
While Christopher Doyle was at one point attached as DoP, Guy Dufaux is a solid replacement, a regular collaborator of Denys Arcand. But the film's velvety, fur-lined visuals makes for a decent, but emotionally superficial costume drama. Much like Marie Antoinette (the relationship depicted here is kind of the opposite seen between the queen and her handmaiden in Benoit Jacquot's Farewell, My Queen), Christina wasn't really in touch with the reality of her people or their needs. But then, The Girl King doesn't seem very interested in conveying much of a connection with Christina, who announces her ascension into womanhood, even if the film's title keeps her in a perpetual state of adolescence.
Neglecting to delve into her later years, the film ends with a questionable statement on her life and legacy, declaring Christina died a virgin. Having watched Malin Buska in various stages of sexual congress throughout the film with Sarah Gadon, no doubt meant to titillate and enthrall in areas previous productions were forced to convey in code or euphemism, one wonders what this statement and this terminology is meant to validate. Since 'sex' is an act that describes a whole range of actions beyond the procreative fundamentals of the penile-vaginal option, Christina Augusta didn't die a virgin. The insistence of such nomenclature as concerns an openly acknowledged lesbian woman is a demeaning cherry (pun intended) on a stale cake.
★★/☆☆☆☆☆