We All Float Down Here: Shelton's Latest Winning Slice of Arrested Development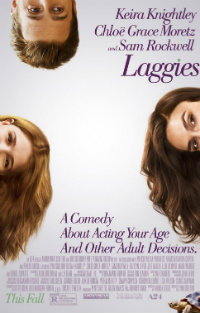 Remarkable in the sense that this is her third consecutive film to premiere at Sundance, director Lynn Shelton is one of the few female directors bucking the general trend of having laborious stretches of times between features. Her latest, Laggies, is her first directorial outing where Shelton has not also written the screenplay (Andrea Siegel gets her first credit instead), which divorces the film from a body of work largely improvised and often careening off the cuff to mostly enjoyable effect. While this makes her latest film feel a bit more mainstream, featuring an array of well-known names, it's also a nicely polished example of familiarity, genuine with its intentions and generally pleasing even as it neglects to say anything we haven't seen repeatedly from both a male and female perspective.
In her late twenties and fresh out of grad school, Megan (Keira Knightley) currently works as the 'sign girl' for her father's (Jeff Garlin) tax firm, hopelessly undecided about whether or not she wants to pursue the profession she just received a degree in. Her group of friends and boyfriend Anthony (Mark Webber), who she has been with since high school, don't help her mounting sense of disorientation. Recognizing at friend Allison's (Ellie Kemper) baby shower that she can no longer relate to her group of friends that are either getting married or having children, Anthony's proposal of marriage sends her careening into a tailspin. Running into a group of high school teens outside the grocery store, Megan is approached by Annika (Chloe Grace Moretz) to buy her friends booze. Megan reluctantly accepts the proposition and soon finds herself involved with her new found friend, eventually lying to Anthony about attending a week long career seminar and instead crashing over at Annika's dad's (Sam Rockwell).
Casting the right actress is a key factor to attaining some sense of likeability for Megan's character since we're supposed to believe her growth and reconciliation by the end of the formula. A role offered first to Anne Hathaway and Rebecca Hall, Shelton lucked out with Knightley, who between this and Begin Again proves to have grown nicely into a charming, affable screen presence, something not always evident a decade ago in films pressured to capitalize on her Pride and Prejudice (2005) success.
As her adolescent parallel, Chloe Grace Moretz also feels appropriately cast as a normal teenage girl, since we're generally forced to accept her presence as the nubile alt girl, mistakenly cast as a Russian prostitute in The Equalizer or stomping all over Sissy Spacek's original freak show calling card Carrie (and yeah, those poorly aging Kick Ass films). We believe their attraction to one another, as Annika is constructed as the not-so-subtle version of another Megan in the making. But those impatient with predictability might feel a bit underwhelmed here. Sam Rockwell, as charming as ever, will inevitably end up in some sort of dalliance with Knightley, an invisible check mark glancing across the screen on their first interaction.
Laggies scores more points in that it makes Megan's fiancé perfectly likeable and charming in his own way, representing the grey zone of the milquetoast yet comfortable trap of settling for easy answers.
If we're used to seeing adolescent minded men in these types of growth resistant situations, Laggies's Megan has an awful lot in common with Melanie Lynskey's character in 2012's Hello I Must Be Going (and, to a superficial degree, Analeigh Tipton in this year's Two Night Stand), women with advanced degrees wallowing in an the in-between zone when they realize that they've lost interest in their chosen career or a flailing relationship has stunted their drive.
Many of Shelton's films present female characters in similar scenarios, at a crossroads, facing life events forcing them out of a rut. While Laggies doesn't feel as freshly enigmatic as Your Sister's Sister, it's at least complete, fully realized thought compared to the fragment that was Touchy Feely.
★★★/☆☆☆☆☆