Reviews
The ABCs of Death 2 | Review
Same Old Song: Scant Few Highlights Justify Lengthy Omnibus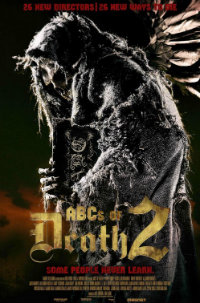 Well, alphabet soup horror is back with The ABCs of Death 2, a follow-up to the first installment (The ABCs of Death) which had twenty six different directors helming a short film based on a word starting with each letter. Now, twenty six more directors try their hand at this formula, which is generally hit and miss, a complaint launched the first time around. With short films of such meager running time amidst a sea of similarly constructed items, most of these tend to cancel each other out. A struggle to remain vibrantly memorable also hobbles a sequence or two. And yet, there are a few little masterful strokes here, though enjoying them feels a bit like trudging through a bargain bin.
E.L. Katz of Cheap Thrills gets things off to an amusing start with his A is for Amateur segment, wherein a hit man gets hung up on some unexpected items in an air ventilation shaft. Of the lesser known names among the directors, some standouts are Robert Morgan's D is for Deloused and Dennis Ramalho's J is for Jesus, which inserts one of the series only queer entries, though he's joing by another example here with Juan Martinez Moreno's S is for Split, which plays like a bit of grisly queersploitation but features a scenario that would potentially make an interesting feature. Long distance communication is also utilized in one of the best segments, Jerome Sable's V is for Vacation, in which a face-time phone calls quickly becomes a disturbing nightmare. Vincenzo Natali's U is for Utopia is fun, slightly obvious, while Alexandre Bustillo and Julien Maury utilize muse Beatrice Dalle for a gory trifle. Rodney Ascher's (Room 237, 2012) Q is for Questionnaire is entertaining, while Lithuanian filmmaker Kristina Buozyte teams with her Vanishing Waves writer for one of the few genuinely creepy segments, K is for Knell.
But of the ten or so that are worth calling out in some regard, more than half of these will disappear from your mind as soon as they've passed while a few even lodge in your mind as trying way too hard (G is for Grandpa, for instance). Some other more experienced filmmakers turn in some unimpressive material, like Larry Fessenden, Israeli duo Navot Papushado and Aaron Keshales, and the Soska Sisters' T is for Torture Porn. But if you're going to dip into The ABCs, it's best to experience them for yourself, as varying tastes will be attracted to different dishes in this poo poo platter of presentation. That's not to say a third installment is necessarily warranted, but these do tend to provide an interesting platform for filmmaker's looking to make a quick impression (though no one has yet to top Marcel Sarmiento's D is for Dogfight from the 2012 offering).
While disparaging some of the weaker segments seems unwarranted, the slim running time of these offerings highlights the difference between its sprawling nature and other recent anthologies, like the VHS films, where less is actually more.
★★/☆☆☆☆☆