Casualties of Class War: Colangelo's Well Performed, Soporific Debut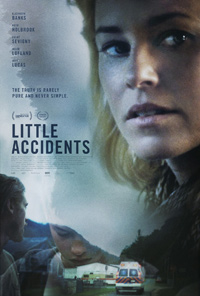 The directorial debut of Sara Colangelo, Little Accidents, finds a filmmaker afforded the possibility to expand an intriguing short film into a feature length endeavor only to end up with a curiously hollow, naggingly underwhelming result. That's not to say this is generally the case or to place this title within any sort of overarching trend in American independent cinema, but short film formatting doesn't always allow or necessitate for more in depth analysis. Featuring several performances worth lauding, Colangelo's script congeals into a mush of predictable beats and rhythms once it establishes the zenith of its dramatic tension early on, meant to catalyze a series of intersecting ripples careening throughout the numbed lives of its rural denizens, where the haves and have-nots are equally hardnosed, everyone equipped with blinders as to the needs, thoughts, or feelings of their fellow citizens.
A fatal mining accident has left ten workers dead in a small West Virginia town, and livelihoods depend on the mine remaining operational. The possibility of this is aggravated by the lone survivor of the incident, the quiet and passive Amos Jenkins (Boyd Holbrook). He may hold the key to whether or not the mine will be closed down to mismanagement. But his fellow colleagues desperately want him to keep quiet, which means not disclosing the fact that local corporate executive Bill Doyle (Josh Lucas) was well aware of the possibility of the collapse transpiring. This sets the community off into a jagged discord. Kendra (Chloe Sevigny), is one of the several widowed wives following the accident, now forced to raise two sons on her own, Owen (Jacob Lofland), and his younger Downs-syndrome stricken brother, James (Beau Wright), though they will receive notable compensation for the death of their patriarch. But the children find themselves at odds with Bill Doyle's son, JT (Travis Tope). A scuffle ensues and ends in tragedy, cementing in inevitable chain reaction that will involve Amos and JT's mother, Diane (Elizabeth Banks).
While Colangelo glances over one significant tragedy in order to throw us into the midst of another, the all-consuming chain reaction that transpires unravels with an all too familiar malaise. The Doyles' stale marriage practically demands that Banks' isolated housewife will engage with Holbrook's downtrodden Amos, both desperately trying to escape hard realities and nagging responsibility. But their attraction is only superficially charged, competing with the fact that Diane is also thrust directly into Owen's orbit, the child responsible for her own progeny's disappearance.
Too convenient, and ultimately, not very provocative, Little Accidents feels like a dysthymic version of classical tragedy, with a bright streak of classism threaded throughout. Elizabeth Banks is generally a welcome presence, and while we usually see her enlivening subpar material with her delirious comedic talents, it's an interesting change of pace to find her stuck in such dour material.
Colangelo's other great asset is Boyd Holbrook (seen earlier this year as a smarmy Australian scuba instructor in The Skeleton Twins). Together, they're soft spots reaching a painful melancholy that Colaneglo seems to be aiming for, but these reluctantly interwoven lives never feel compellingly wrought in a film that feels like a pale echo to something like David Gordon Green's 2007 film Snow Angels.
★★/☆☆☆☆☆