The Big Chilly Summer Vacation: Canet's Latest an Exemplary Drama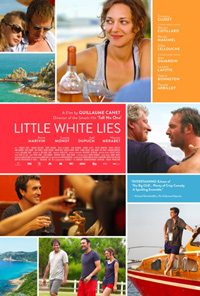 For his third outing as director, actor/screenwriter Guillaume Canet looks to have been heavily influenced by Lawrence Kasdan's American classic, The Big Chill (1983) when he penned Little White Lies. Originally premiering at the Toronto Film Festival in 2010, the film now has two cast members with Oscar statues. Whatever the impetus that has vanquished the delayed release of this title, we should be thankful to have the chance to see such a finely wrought and engrossing drama about adult relationships. And while it may indeed share similar themes with an aforementioned title, this is the type of intelligently written and engaging cinema rarely produced for American audiences.
Concerning a large group of close friends residing in Paris, their lives are altered when one of their most affable members, Ludovic (Jean Dujardin) is involved in a tragic accident (filmed with a marvelous tracking shot) leaving a nightclub. As the group is poised to take their summer vacation together, perennially provided by the wealthiest member of the group, Max (François Cluzet), a successful hotelier and restaurateur, they are unsure if it is an appropriate time to take a vacation while their beloved friend lies in intensive care. But with limited hospital visitation and Max's vacation home only an hour away, the group decides to take two weeks rather than a month so that they can return when Ludovic has healed enough to see them. But with a tragedy hanging over their heads, certain truths the friends have been avoiding aren't able to be covered up any more by various 'little white lies," and tensions threaten to ruin not only the vacation atmosphere, but relationships as well.
Each character is heavily embroiled in their own private drama; there's the hot tempered and high strung Max, who drives his long suffering wife Veronique crazy (Valérie Bonneton) and who doesn't know how to deal with one of his best friends divulging a same-sex crush; Vincent (Benoît Magimel), an unhappily married chiropractor whose wife, Isabelle (Pascale Arbillot) is sexually frustrated; Ludovic's ex-girlfriend, Marie (Marion Cotillard), is an emotionally fragile anthropologist unable to find any man (or woman) suitable enough for her; Eric (Laurent Lafitte), a television actor, is obsessed with trying to get back together with his ex-girlfriend; and then womanizer Antoine (Gilles Lelouche), is unable to abstain from cheating on his current love, even though he's sure she's the one for him. With all their baggage in tow at Max's summer home, laughter, tears, and screams of anguish are shared, with a local friend and oyster-farmer, Jean-Louis (Joël Dupuch) a catalyst that forces the tight-knit group to face truths they've staunchly avoided.
After the unprecedented success of his previous feature, the pulpy thriller Tell No One (2006), Canet's Little White Lies comes as even more of a surprise, an original work about a group of friends with a running time of two and half hours. But with slick pacing and a stellar screenplay, Canet has managed to create a group of beautifully striking and fleshed out characters. Before you realize it, you're utterly engrossed in their tics and foibles, their loves and losses. There are several unprecedented moments that spill into laughter, tears, or both. And for a film about facing the truth head on, Canet has managed to make a refreshingly truthful film about love, sexuality, and death.
As accomplished as Canet's writing is, he wouldn't have gotten anywhere without a spectacular cast. In particular, Marion Cotillard (Canet's real life lady love), Magimel and Cluzet are quite spectacular and dazzling in each of their turns here, with Canet taking the time and care to develop an emotional center for all of his characters. At times, the boppy soundtrack seems a bit anachronistic. American rock and pop of the 60's and 70's feels overly familiar here, and while it may lend a certain timeless feeling to the proceedings, some of these tracks have been used so egregiously in cinema that their ability to enhance visual sequences seems flaccid and devoid of emotion. Thankfully, Canet does showcase some less popular and more modern tracks, like Antony and the Johnsons, into the fabric of his film. By the film's end, the characters being confronted with the fact that they've all been constantly lying to each other does have a rather truncated feel to it, which only further serves to alienate the film's proceedings from its deceptive title.
The real power in Canet's Little White Lies is its group of familiar, loveable and likeable characters who all could be someone we would love to know and befriend. We watch them at a point in their lives where they get to examine, for a moment, why they live their lives the way they do and how they think they can make them better.